Allen resigns as boys basketball coach
After nine years as the head boys basketball coach at Lansing High School, Don Allen has decided to step aside.
Allen said he informed LHS activities director Gary Mattingly and principal Steve Dike of his decision on April 12. Allen then met his team on April 13 to break the news.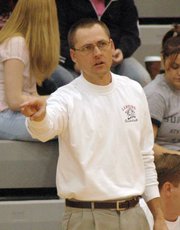 "It was difficult for me," Allen said of the moment he told his players he was stepping down as coach. "I struggled for a long time on how I was going to go about telling them, and really there's no other way to tell them other than to just be truthful to them. I told them I wasn't coming back next year, and I explained to them my situation."
Allen's situation is twofold. For one, he and his wife are expecting their third child this summer, and the other two are less than 6 years old. The second factor, Allen said, was that he planned to go back to school as a full-time graduate student to pursue his masters degree in administration.
"That's going to take quite a bit of commitment from me, and I didn't feel that I could necessarily commit as much as I felt I needed to to basketball to be fair to myself and to be fair to the guys," Allen said.
Allen said there was no administrative pressure for him to step aside as coach. Instead, the decision was made after weeks of discussion with his wife.
Allen will remain at LHS as a teacher. He said he would continue to coach seventh-grade football in the fall.
The rest of his time - when not in the classroom as a teacher or student - will be spent with his wife and sons.
"We're going to have three boys, so I'm not going to be looking for things to do," Allen said with a chuckle. "I imagine they're going to keep us as busy as we want to be."
Allen took over the LHS program in the 1997-1998 season after spending three years as an assistant at the school under then-coach Chris Elliott. He compiled a 94-100 record and had seven players honored as All-Kaw Valley League a combined 14 times. Allen's most successful season was in 2002-2003 when he guided the Lions to a state tournament appearance and 17-7 record.
A Pittsburg State University graduate, Allen spent one year coaching at Pittsburg High School and two in Bronaugh, Mo., before coming to Lansing in 1994 to teach science.
Allen said he always would have fond memories of Lansing basketball because the school and the program had been good to him in numerous ways.
"The community has just been great, and I met a lot of great people and got a lot of great friends out of it," Allen said. "I got a chance to coach my brother-in-law, met my wife, married into a great family and am going to have three little boys running around, so I'd say Lansing basketball has been pretty good to me over the years."
Allen praised LHS administrators for being "nothing but supportive of our program." He also expressed his appreciation for assistant coach Dan Wessel and freshman coach Bill Pekarek.
Allen's fondest words were saved for Wessel, his top assistant for the past nine years and one of his best friends.
"Dan was my assistant from day one, and I can't even begin to explain everything that he did for the program," Allen said. "Dan and I have pretty similar philosophies about the game and how we wanted to coach it and how we wanted to teach it. Chances are, if I thought about it, Dan had already taken care of it and it was done."