Freshman Lang throws fire, chills opposing batters
There is a down side to having Brittney Lang pitch for the Lansing High softball team.
Just ask Nichole Twitchel, who plays catcher.
Twitchel, a senior, has had to start wearing a batting glove inside her catcher's mitt - Lang throws so hard that she bruised Twitchel's hand.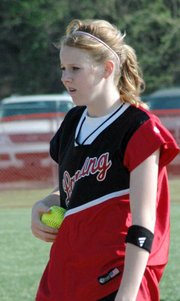 "Yeah, my first finger is bruised," Twitchel said with a laugh. "The thing about Brittney is that not only does she have the speed, but she can move the ball around. Usually it's one or the other. I think that's what makes her so good."
Lang has been flat-out dominant during her first four appearances as a high school pitcher. After tossing a three-hitter and striking out 13 in her debut, she scattered just a handful of hits in a 2-1 loss. Then she found her groove.
Lang fired a no-hitter Thursday in a 4-0 victory at Bonner Springs. She almost replicated the performance Tuesday when she tossed a one-hitter Tuesday in a 4-0 victory against Santa Fe Trail.
"I'm hoping to just play regular softball and work on getting better," Lang said after striking out 16 against Santa Fe. "I know my pitching always needs improving."
Always striving to improve, Lang actually spent part of Thursday's game practicing her screwball. As a result, she didn't realize she hadn't allowed a single hit until LHS coach Terry Cornett pointed it out to her.
Cornett said he was impressed with Lang's maturity and her commitment to improvement.
"She knows her ability and what she can do and her limits probably far better than I do," Cornett said. "She was doing some things (Thursday) that will make her better down the road."
The one knock on Lang entering high school was that some people said she wasn't a good hitter. So far she has proven those folks wrong. She bats in the seven-hole, but she has two three-for-three performances this year. One of those came in the season-opener. The other came during the first game against Santa Fe when she smashed two doubles to center field.
"I've just been working more on my hitting with my coaches and it's worked for me," she said.
Lang said she is excited about the fact that Lansing is in the hunt for a Kaw Valley League title, despite losing its league opener to Mill Valley. LHS handed Santa Fe its first league loss Tuesday. Now, only Tonganoxie is undefeated in the KVL.
Lansing will try to stay in the league race by winning a pair of games at 4:30 p.m. today at Perry-Lecompton. That won't be easy to do, Cornett said.
"They always play us tough at their place," he said.