After being shut out two games in a row, the Lansing High girls soccer team hoped to have a goal-scoring party Wednesday against Basehor-Linwood.
That didn't quite happen, but the Lions still snapped their scoreless streak and picked up a 2-0 victory in Northeast Kansas Soccer League action at Lansing Middle School.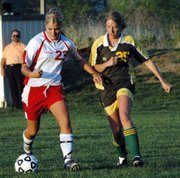 The Lions (5-3-1) took a 1-0 lead just 1:15 into the game when senior Katie McKee fed a pass to sophomore Christine Cordes in a scramble in front of the box. Cordes gathered herself and buried a shot into the net.
"I was hoping that it was going to be the start of a fruitful half, but :" LHS coach Rob Elkins said.
Basehor answered right back with a series of strong runs at the goal, but Lansing goalkeeper Katie Nietzke was up to the challenge. After that, LHS went on the offensive again. The Lions dominated the rest of the half, but they were unable to capitalize on numerous good looks at the goal.
During halftime, Elkins told his players to focus on creating shots closer to the goal.
"(I told them) we can't be taking those 20-, 25-yard shots at that goal because their goalie is not going to let one of those get by," Elkins said.
The Lions went to work on getting closer shots in the second half. They found success in the 50th minute when Erin Griffen crossed a pass to Rachel Pride right in front of the goal. Pride gathered it and put it away for a 2-0 lead.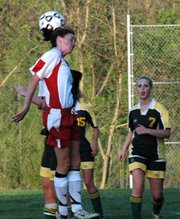 "I've been having a hard time finishing. I finally got one," Pride said. "It's kind of like it got the weight off my shoulders, finally."
The Lions continued to dominate in the second half as they created offensive attack after offensive attack. They did everything right except put shots away. Ultimately, the missed shots weren't a factor because the Lions kept the Bobcats off the board.
Lansing next plays at 6 p.m. Thursday when it plays host to rival Piper at Lansing Middle School. Lansing has never lost to Piper, but Elkins said the streak wasn't of major concern to his team.
"They just want to win," he said. "The losses we've had this year have all been one-goal losses, and those have been kind of hard."