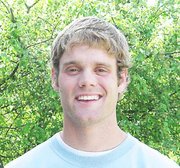 When Joey McKee was in high school, he had a summer goal to make money by mowing lawns.
He and his partner had little to work with except honesty, dedication and some beat up equipment, but they stuck it out.
"We started with a couple of push mowers in an old pickup truck, and then we just kind of expanded," McKee said.
Though they made enough to re-invest in newer equipment, McKee remembers wondering about the future of the operation.
"I lost many nights of sleep as an 18-year-old thinking I just bought a mower that cost more than my first car," McKee said.
When McKee graduated from Washburn in December 2005, he decided to branch off from his partner so he could focus on growing Joey's Lawn Pro-fection. Though he now serves over a hundred clients, McKee still has his eyes on expansion.
"I work for 120 different people, but I can see working for 1,000," he said.
McKee's ambition doesn't stop with lawns, either. He hopes to jump into the landscaping and real estate businesses, though he's not sure when.
McKee also has aspirations to travel the world, but his wanderlust is kept in check by his business obligations. Wintertime affords him the perfect opportunity for travel, however. Last December, after graduating, McKee traveled to Europe for a month, where he visited Prague, saw the Pope in Rome and skied in the Alps.
McKee has plans to visit many destinations; he's just waiting for the right time - or impulse.
"I'm kind of antsy all the time," he said. "I can only mow so much."
Name: Joey McKee
Address: 401 W. Olive Drive
Occupation: Joey's Lawn Pro-fection
Graduate of: Washburn University, December 2005; majored in finance and management
Family: Two golden retrievers, Emma and Molly
How long have you lived in Lansing and what brought you here? 14 years; my dad was in the Air Force.
What do you like most about Lansing? The friendly and supportive people, and being centrally located to other places.
What do you do for fun? Travel, invest, play basketball, mow lawns.
What would surprise people about you? I cannot tie a tie; I'm a slow driver.
What's the best advice you've received? Work hard now, play harder later.