New charge filed in prison escape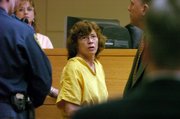 A preliminary hearing is scheduled June 2 for Toby Young, the woman accused of helping a convicted killer escape from Lansing Correctional Facility earlier this year.
Leavenworth County District Judge Frederick Stewart set the hearing for 1 p.m. June 2 during a hearing Friday morning.
Young, 48, Kansas City, Kan., was charged March 3 with aiding and abetting aggravated escape and aiding a felon in the Feb. 12 escape of John M. Manard, a 27-year-old convicted killer. Young ran Safe Harbor Prison Dog program at the prison and is alleged to have driven Manard out of the prison, hidden in a dog crate in the program's van.
As expected, Young also was charged Friday with trafficking contraband into a correctional facility. Leavenworth County Atty. Frank Kohl said Thursday a post-escape investigation produced evidence that Young had given Manard a cellular telephone to use within the prison walls.
Young and Manard were captured Feb. 24 in rural Tennessee. Young continues to be held in the Leavenworth County Jail on $100,000 bond. Manard is back at Lansing.
Young appeared at the hearing with her attorney, Jim Yoakum, a longtime family friend. Yoakum declined to meet with reporters after the hearing.