Scouts get biology lesson at plant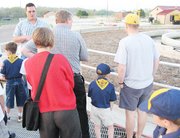 It was like the Holy Grail of all toilets.
But it inspired more awe than humor from the group of second-grade Cub Scouts who came to pay homage.
As part of their requirements for becoming Bear Cubs, a half dozen members of Den 6, Pack 3165, gathered Monday evening in the conference room of the recently modernized Lansing Wastewater Treatment Plant to learn about what happens when they flush the toilet and the complicated engineering designed to clean that water.
"The solution to pollution is dilution," said Tony Zell, wastewater utility director, while explaining in second-grade terms the complex biological and chemical processes that treat nearly 1.5 million gallons of wastewater each day.
As Zell continued, talking swiftly while accessing real-time computer imagery of the plant's various systems on a big screen monitor, the attending parents became just as engrossed as the Cubs, fascinated by the high technology that is used everyday at the plant.
Zell takes these talks seriously. He said that most people didn't realize the importance of the process.
"They don't understand," Zell said. "They kind of flush and forget the process that's downstream of them. And there's a lot that goes into treating the wastewater and making it a viable product to discharge back into the ecosystem."
And because there is a limited amount of water on the planet, Zell tries to hit home the realization that every thing comes around eventually.
"They don't realize it gets discharged to the Missouri River, it goes downstream, and then it gets pulled back in and they make drinking water out of it. I think that's what I try to impress on them the most."
Greg Burke, an assistant den leader, said the trip was designed to expose the Cubs to an aspect of the city about which they knew very little.
"You have to do 12 achievements as a Wolf to become a Bear," Burke said. "One of the achievements is to visit an important site of your community and talk about why it's important. So it exposes the Scouts to all sorts of things."
After a stop in the laboratory where the Cubs had a chance to look at the microorganisms used by the plant to break down waste material, they got a tour of the various structures that house the waste at different stages of the process and then saw the final discharge into Nine Mile Creek.
Only one task remained after all the questions were finished: Everybody washed their hands. Toilet humor would never be the same.