State treasurer tells
GOP

of hard work ahead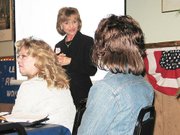 Kansas State Treasurer Lynn Jenkins, who is running for re-election this November, didn't give a stump speech this week to the Leavenworth County Republican Women's Club.
Jenkins mostly ignored her own campaign run and instead tried to inspire the party faithful to work this summer and fall to make sure Kansas Republicans hold onto the offices they now have and regain control of the governor's office.
"Pick a candidate and go through the wall for them," Jenkins urged the women and men attending the group's meeting Monday at the High Noon Saloon. "We've got seven months, and who wants to see Democrats in control? I don't think any of us do. And we are the people that have the power and the talent and the ability to affect this election and do something about it."
Jenkins' message wasn't typical of a political rally. She laid out the difficulties facing the party nationally - a pessimistic electorate, President Bush's low approval ratings and a general disdain for Congress, where the Republicans hold the majority.
She also noted the difficulty for Republicans in defeating Gov. Kathleen Sebelius, the Democratic incumbent.
"She's a masterful politician; in fact I'm not sure I've ever seen one better at the game of politics. I'm in awe," Jenkins said.
And, she said U.S. Rep. Jim Ryun, whose 2nd Congressional District includes Lansing, faces a stiff challenge for re-election from Democrat Nancy Boyda.
"He's got a race on his hands, ladies," Jenkins said of Ryun. "Nancy Boyda, he may have thumped her - thumped her good - two years ago, but you can't take that for granted. He is vulnerable."
Jenkins' message wasn't all doom-and-gloom for the Grand Old Party, though.
She noted despite the problems facing Republicans nationally, Democrats don't seem to be stepping forward with any vision of their own. Plus, the election is not until November and "seven months in politics is a terribly, terribly long time."
Jenkins reminded her audience of Ronald Reagan's "11th commandment," "Thou shalt not speak ill of another Republican," and asked them to unite in November even if their chosen candidate is defeated in the August primary.
"The fact is, it's real simple math. If Republicans vote for Republicans, we win every time" in Kansas, she said.
Jenkins, a certified public accountant, is in her first term as state treasurer. She serves as the "banker" for Kansas, accounting for and depositing money that comes into the state.
Thus far, no Democrat has been announced as a challenger to Jenkins this year.