Aull falls short at Miss
USA

pageant
Miss Kansas USA Ashley Aull won't be returning to the Sunflower State as Miss USA 2006.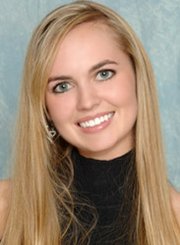 Aull, a Lansing resident and a student at Johnson County Community College, did not have her name called when the field of 51 contestants was pared to 15 during the Miss USA Pageant on Friday in Baltimore.
Aull appeared onstage during the roll call of states at the pageant, which was at the sold-out 1st Mariner Arena in Baltimore and televised nationally on NBC.
Miss Kentucky, Tara Elizabeth Conner, a 20-year-old business administration student at Somerset Community College, was named Miss USA 2006.
Aull is the daughter of Melanie and Alex Aull and is a 2004 graduate of Lansing High School. She won the Miss Kansas USA title in November.