Radovich, Slater, Kroll compete at Kansas Relays
Lawrence — Amanda Radovich had barely five hours of sleep Thursday night, but the Lansing High senior still found her way to Memorial Stadium bright and early Friday morning to throw the javelin at the Kansas Relays.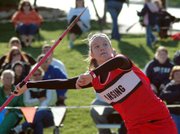 Radovich competed at the Louisburg Invitational Thursday evening and placed first in the javelin with a throw of 117 feet. She had to wake up at 4 a.m. Friday to head to Lawrence, though. Ultimately, lack of sleep and tightness from throwing the day before hindered Radovich in her performance. Her best throw of the day was 118-1, but she placed 16th overall. She was seeded fourth coming in.
"I got up early, I was out late and I think my body's tired," she said. "It probably wasn't smart for me to throw last night."
That said, Radovich said she wasn't disappointed with her mark. Her focus is on regionals and state, so she said she used the Kansas Relays as practice.
"Right now in the middle of the season, I'm working on my torquing and just trying to get the fundamentals," she said. "Like coach says, our season doesn't start until regionals and state, and these are just 'glorified practices,' as he calls them. So that's how I'm looking at it. I'm not disappointed. I'm happy with my throw today."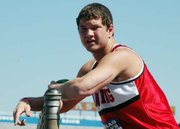 The top throw of the day was turned in by Tonganoxie's Roxi Grizzle who threw a personal best of 148-1. Tongie's Ali Pistora was third with a throw of 139-10.
Lansing's other Friday competitor was senior sprinter Jeff Slater. Slater competed in the 400 meters, but he was hampered by a nagging hamstring injury. Slater ran a strong first 150 meters and appeared to be in first place, but the hamstring flared up on him and he slowed to a sixth-place finish in his heat. His time was 51.65.
"(My) hamstring started hurting about 150 in, and I was just like 'Run through it. Run through it. Run through it,'" Slater said. "And then at the end I had no legs."
Also competing at the Relays is LHS alum Alan Kroll. A sophomore at Johnson County Community College, Kroll competed Thursday in the 800-meter run. He placed 21st out of 91 runners in 1:56.14. Kroll also was scheduled to compete in the 1,500-meter run, but he pulled out of the race. He will run at 1:05 p.m. Saturday in the two-mile relay.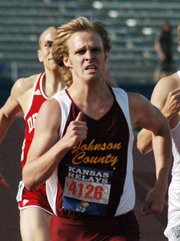 For more news from the Kansas Relays, go to lansingcurrent.com or pick up the April 27 edition of The Current.