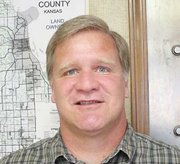 Brian Kern is an unusual small-business owner.
Unlike others who struggle to keep a business alive during the first formative years, Kern's flourished from the outset. But he can't thank experience - it was Kern's first shot.
"It was somewhat a leap of faith, but well worth it," said Kern, who opened Kern Appraisal, 108 S. Main St., in 1991. "Business took off and been at steady growth ever since."
If it was beginner's luck, it has continued. And as business has remained good over the past 15 years, Kern Appraisal has expanded and now employs a small staff to keep up with the demand.
"It's gone from a one-man operation to a small business," Kern said. "We probably do anywhere from 700 to 1000 appraisals a year."
But even if the value of real estate is driven by location, location and location, there's a little more to Kern's approach to appraisal.
"It's a lot more of an art than a science," he said.
Giving a good appraisal requires an understanding of all aspects of the community and information like employment trends, Kern said. Not that he denies his Lansing location has helped, too.
"This is a good place to be an appraiser with what's going on now," he said.
As Lansing's population has boomed in the last few years, Kern now notices that much more of his work stays close to home instead of drawing him out into the county.
"The biggest change in the last four years is that I've gone from nationally-based clients to more local clients," Kern said.
And though the growth boom may someday end, that's not what Kern is most curious about.
"How high can prices go?" he asks. "That's what you wonder :"
Name: Brian Kern
Address: 802 Pinehurst Drive
Occupation: Real estate appraiser
Family: wife, Sandy; sons, Brian and David
How long have you lived in Lansing and what brought you here? 1990, almost 15 years. I wanted my kids to attend Lansing schools.
What do you like most about Lansing? The people I have met are very friendly, and the schools are outstanding.
What do you do for fun? Golf and watch my sons compete in school activities.
What would surprise people about you? I'm basically a shy person unless I'm around friends - then I can be hard to shut up.
What's the best advice you ever received? When mama is not happy, nobody is happy.
What organizations or clubs do you belong to? Lansing Business After Hours; Leavenworth Rotary