Creating for a cause
Siblings participate in arthritis fundraiser
Jennifer and Jacob Nye recently got a taste of life as an artist.
They worked in a studio in Kansas City, Mo. They expressed their ideas. They got paint on their hands. They created works that reflected their interests.
Jennifer, a Lansing Middle School seventh-grader, and Jacob, Lansing Intermediate School fifth-grader, are participating in a fundraiser for the Western Missouri-Greater Kansas City chapter of the Arthritis Foundation.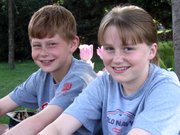 The Nyes worked with professional artists to create works that will be auctioned off tonight at the third annual Art for Arthritis benefit in Kansas City, Mo. Their mother, Joan Nye, said both children have forms of arthritis and were recommended to participate in the program by their doctor.
Jacob participated in Art for Arthritis last year, creating "Truck Tracks" by driving his toy trucks through paint and then on a canvas. That painting sold for $400, his mother said.
This year, the Nyes worked with husband and wife Doug Schwietert and Francine Hansen at their home and studio in Kansas City.
Jacob's piece, "The Farm," makes use of items from his grandparents' farm, including a wooden plank, a horseshoe and old pictures. Jacob said he painted the piece and Schwietert helped him place the items on the canvas. Schwietert added his own touch by attaching wooden letters he had in his studio to spell "FARM."
Jennifer worked on a large canvas and painted silhouettes of horses with Hansen. To make the silhouettes, they created stencils from Jennifer's drawings and some old horse calendars of hers.
Working with Hansen, Jennifer said she learned a lot about shading, depth of field, showing movement and other artistic concepts.
"Have one thing in the middle that really draws everybody's attention," Jennifer said.
Both Jacob and Jennifer said they enjoyed the experience and would like to do it again.
"It was fun meeting new people to help you do this," Jennifer said.
The creative process inspired Jennifer: "I like art more," she said.
The budding artists plan to visit an open house at the Hobbs Building, where Schwietert and Hansen and other artists live and have galleries.
The Nye family will attend the Art for Arthritis auction tonight, but, unfortunately, Joan said, they probably wouldn't be able to buy the children's artwork because it's so expensive. However, she said that she and everyone in their extended family would probably buy a calendar or box of greeting cards that feature the all the participants' works.