First responders boost child safety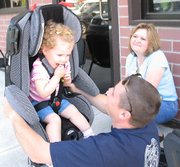 Police officers, firefighters and ambulance personnel helped local parents give the safety of their children a boost on Saturday - literally.
In an event to help educate and equip parents for the transition to the new State booster seat law that takes effect July 1, members of local emergency response departments conducted free checks of booster seats, checking for proper installation in the vehicle and making sure that the seat was properly adjusted to fit the child. Police also used a database to check for manufacturer recalls.
Some, like Becky Andring of Leavenworth, came for peace of mind.
"I felt somewhat safe, but now I'll feel better," said Andring, who brought her 13-month-old daughter Alexis to be fitted. "Her restraints needed to be higher. They made it more comfortable for her."
And comfort may be key for parents who now face imposing the new booster seat requirement on children who may have been riding like adults for several years. The new law requires children less than 8 years old, 80 pounds or 4 feet 9 inches tall to ride in safety seats. The former policy did not require the seats after age 3.
The change addresses the risk of injury to children's smaller frames, for which adult seat belts were not engineered. Without a booster seat, adult restraining belts can cause injury to the neck and stomach of a child. Properly fitted booster seats keep the restraints along the hip and shoulder, which is safer and more comfortable.
The event was put on by Leavenworth Online, which recently moved to town. The general manager, Bruce Lanter, who has four children of his own, thought it would be helpful to area residents.
"We actually asked the police department if they wanted to do it," Lanter said. "The police department was very receptive, and so was the fire department and EMS."
Because each check took 30 to 45 minutes, the groups teamed up to provide a little distraction for the children. Leavenworth Online hired a clown to make balloon animals, the fire department brought one of its big red trucks, and LPD brought one of its new Dodge Charger cruisers.
Many of the parents, like Jennifer Baptista of Leavenworth, came informed but wanted a double-check.
"I did a lot of research before we bought our product," said Baptista, mother of 18-month-old Trey.
"It doesn't hurt to be extra safe."