Forensics wraps up successful season
Lansing High School's forensics team continued its record of success this weekend, earning first place Saturday, April 22, at the Tonganoxie Invitational tournament.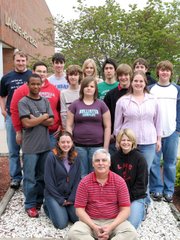 Several students qualified for the state tournament, including Stefan Dumlao in informative speaking and original oration, Miranda Nichols in extemporaneous speaking, Michael Brooks in extemporaneous speaking, Brian Butler in serious solo acting, Aaron Keeling in humorous solo acting and with Samantha Mitchell in duet acting and Lauren Summers and Austin Keeling in duet acting.
The Tonganoxie tournament marked the last of the regular season tournaments for Lansing's forensians. Of the 13 tournaments it attended, Lansing's team placed third at two tournaments and first at seven, including the Kaw Valley League Championship. Lansing has won the league competition 11 times in the last 13 years, sponsor Ken Church said.
Students who have qualified for the state speech championships will compete May 6 at Emporia High School. Lansing will send 18 entries and eight alternate entries to the tournament, Church said.
State qualifiers will perform at Forensics Night, 6:30 p.m. to 8 p.m. Monday, May 1, at the high school. The event is free and open to the public, and refreshments will follow.
The final event of the season will be the annual Forensics Award potluck banquet at 6:30 p.m. May 11 at LHS.