Hamstring slows Slater at Kansas Relays
Lawrence — Lansing High senior Jeff Slater spent his entire high school track career dreaming of competing at the Kansas Relays.
He'd watched his older brother compete in the elite track meet at the University of Kansas Memorial Stadium, but he'd never raced in it himself.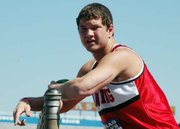 After achieving a qualifying time in the 400-meter dash this year, nothing was going to keep Slater from running his race. Not even a nagging hamstring injury.
"If it was hurting, I was going to pull up," Slater said.
After climbing into the blocks, Slater exploded out of the blocks, dug into the first curve and raced into the back stretch. It was a terrific start, but he soon slowed down a bit.
"(My) hamstring started hurting about 150 (meters) in, and I was just like 'Run through it. Run through it. Run through it,'" Slater said. "And then at the end I had no legs."
Slater ultimately placed sixth in his heat in 51.65 seconds. He didn't advance to the finals, but he did finish the race. That was somewhat impressive in itself, considering he'd run less than 18 hours earlier at the Louisburg Invitational. At that meet, he struggled through the 400-meter relay and pulled up short in the 400-meter dash because his hamstring hurt.
"I woke up this morning and I ran and it was pretty good," Slater said of his feelings entering his race at the Relays. "I wish I would've gotten 50."
Hamstring pain is nothing new to Slater. He dealt with a similar injury all last year and made it to the state meet before the hamstring finally gave out. LHS coach Errol Logue said Slater might have to tolerate the injury all season.
"I've known guys that have run with sore hamstrings the whole darn season, and he did last year," Logue said.