Kroll intentions
Former
LHS

standout looks to nationals, prepares to be a Jayhawk
Lawrence — Whether sporting short hair or long locks, a beard or clean-shaven face, Alan Kroll always has had a noticeable presence on the track.
This year's Kansas Relays was no exception.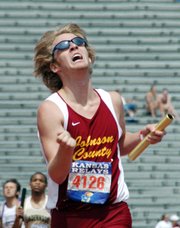 Kroll, a 2004 graduate of Lansing High School and current sophomore on the track team at Johnson County Community College, went with the long-haired look Saturday at the Relays. He also sported a pair of sunglasses on a clear afternoon where temperatures surged into the mid-80s.
In a way, he resembled a rock star transplanted on a track. But the rugged appearance was for show only. Kroll was all business the moment he took the baton to run the final leg of the 4X880-yard relay.
He blazed around the Memorial Stadium track and helped JCCC place fifth in the race. The squad's time of 7 minutes, 49.93 seconds was a season best. It was a stellar finish to a whirlwind weekend. Kroll competed in the 800-meter run Thursday in Lawrence and finished 21st in 1:56.14. He spent Friday in Warrensburg, Mo., racing in the 1,500-meter run. Then it was back to Lawrence for the big finish with his relay team.
"It's been a long weekend, for sure," said a winded Kroll. "But I think we all put together a pretty good race just now."
Kroll has had his share of good races during his brief collegiate running career. That success has come as no surprise to LHS coach Errol Logue who watched Kroll win the Class 4A 800-meter state championship for Lansing as a junior in 2003.
"He's just a fierce competitor," Logue said. "If you were to describe him, you'd describe him as a gutty performer and a total team man."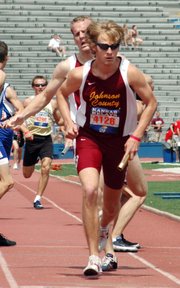 FIRST STEPS
Kroll initially wasn't a runner when he began his prep career at Lansing High. He was a baseball player, soccer player and snowboarding enthusiast.
Then he discovered running.
Kroll quit playing baseball his sophomore year and decided to run track. That didn't last long, though, because Kroll was injured in a snowboarding accident.
Committed to running, Kroll gave up his job at Snow Creek in Weston, Mo., and devoted his spare time to running. The results were instant.
"He came out and started running a 2:10 half-mile," Logue said.
But the seconds continued to trickle off his time.
"Absolutely contrary to the plateaus of learning, he kept bringing (his time) down," Logue said. "He kept getting a little better every meet."
After dueling back and forth with runners from Tonganoxie and De Soto all season, Kroll won his first race at the Class 4A regional meet. He followed it up with a tooth-and-nails race in the state finals. Entering the home stretch, Kroll popped to the outside, surged past his competitors and pulled away to win the state championship.
"There were about six guys right at 1:59, and he just ran a perfect race," Logue said.
Kroll didn't repeat as champion in 2004 - he placed fourth - but he headed to college determined to run faster.
CRUISING AT JCCC
Kroll has found plenty of satisfaction during his two years running at Johnson County. He had a breakthrough season with the cross country team during the fall of his freshman year and spent the full season among the Cavaliers' top five runners. That success carried over to the track where he placed fifth in the 800-meter run at the Jayhawk Conference Region VI Indoor Championships.
Kroll again was among JCCC's top runners in cross country last fall. In fact, he helped his team place second at the National Junior College Athletic Association half-marathon championships. Kroll built on that success during the indoor track season as he placed seventh in the 1,000-meter run and helped his 4X800-meter relay team to a third-place finish at the NJCAA indoor national championships. For the pair of top-eight finishes, Kroll earned two All-American honors.
More honors could follow this spring. His relay team's time Saturday was far below the 8:03.13 qualifying standard for the national championships. He also owns a qualifying time in the 800, having run a 1:56.38 earlier in the spring at Northwest Missouri. He's even closing in on a qualifying mark in the 1,500.
Kroll said he is surprised by the amount of success he has enjoyed as a college runner.
"Honestly, I didn't even think I'd get a shot at making nationals because they set out specific times every year to qualify for it," Kroll said. "It was pretty intimidating last year, but I made it last year."
Kroll admitted his nerves were much steadier this time around. He's a veteran now, and he's running faster than he ever thought he would. Now, Kroll isn't intimidated by qualifying times. He's shattering them.
"I'm already qualified for nationals in the 800, and hopefully I'll hit the 4:02 mark (to qualify) for the 1,500. It's definitely within reach," he said. "In the 800, I'd like to run a 1:53 or 1:52, which I think is definitely possible (1:55.3 is his personal best), and I'd like to finish as high as I can at nationals."
NO SLOWING DOWN
Although Kroll's sophomore season at JCCC is almost over, he said his days as a runner are not. He plans on running at the University of Kansas this fall.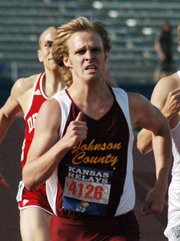 "I really have no ambitions to go anywhere else other than KU," he said. "I've been offered other places, and nothing seems to jump out. Even if I were to just walk on at KU, it would honestly be a dream come true."
Track scholarships are rare to begin with - especially for in-state athletes - so walking on is a pretty standard procedure for college track athletes. That process involves participating in a team tryout, something Kroll said he has discussed with KU distance coach Doug Clark. It's something Kroll said he is ready for.
"As far as where I rank against the present KU runners and with the seniors that'll be gone after this year, I think I could come in probably third or fourth in their middle distance corps," Kroll said. "It just depends on what they have me running next year."
In all likelihood, Kroll will be able to focus on his specialty - the 800 - at KU.
"When I get to Kansas, I will basically be training for middle distance," Kroll said. "Right now I'm doing the cross country thing for Johnson and then trying to train as a miler as well. I think next year it will be more turned specifically for the 800, the 1,000 and the mile."
Kroll said he is excited to face the challenges that will greet him as a runner at KU. The greatest of those challenges - and the one he looks forward to most - is the faster runners.
" The thing I'm looking forward to the most next year is better competition," he said. "At the division I level you're facing the absolute best in the nation which I think will help push me to excel a little bit more and just keep the success rolling."