Radovich enjoys final
KU

meet
Lawrence — Amanda Radovich didn't leave this year's Kansas Relays with a medal around her neck, but she did leave with a smile on her face.
Radovich didn't record a mark on any of her three javelin throws when she competed at the Relays as a junior.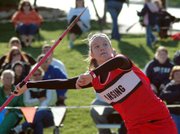 Now a senior at Lansing High, Radovich placed 16th overall in javelin with a throw of 118 feet, 1 inch this year.
The throw was more than 20 feet short of her school-record mark of 139-5 which she set in the first meet of the season. Regardless, Radovich said she still was pleased with the way she threw Friday.
"Right now in the middle of the season, I'm working on my torquing and just trying to get the fundamentals," she said.
"Like coach says, our season doesn't start until regionals and state, and these are just 'glorified practices,' as he calls them. So that's how I'm looking at it. I'm not disappointed. I'm happy with my throw today."
Tonganoxie's Roxi Grizzle won the event with a career best throw of 148-1. Amber Dunham of Independence was second with 143-4. Tongie's Ali Pistora was third with a toss of 139-10.
Friday's meet was like a practice in a number of ways for Radovich. For one, she'd competed in another track meet less than 18 hours earlier when she won the javelin at the Louisburg Invitational on Thursday afternoon. After arriving home late from the meet and then doing homework, Radovich woke up about 4 a.m. Friday to head to Lawrence. She began throwing at 8 a.m.
"I got up early, I was out late, and I think my body's tired," she said. "It probably wasn't smart for me to throw last night."
In addition, she has been focusing less on distance during recent meets and more on improving her technique.
"My approach looks good and everything looks good. I've just got to get my arm speed," she said. "I think that's my only problem right now."
Radovich said she was confident she would be throwing in the upper-130s again soon. If history is any indication, then she may be right.
"Every year I've thrown, I've progressed, and my best throw has been at regionals. And then I top my best throw at regionals at state," Radovich said. "That's how it's been every year, so hopefully it's the same this year."