Stunt show rewards, entertains
Do not try this at home.
Last week, some Lansing Middle School students were excused from class to watch stuntmen put on a BMX bike show and classmates throw pies at their principals.
Photo Gallery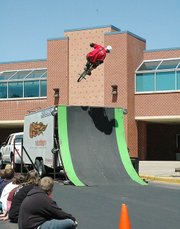 BMX bike stunt show
Lansing Middle School students who participated in a school fundraiser got an afternoon off to watch a BMX bike stuntshow in the school parking lot on Thursday, April 20.
The activities were organized as a reward for students who sold at least one item in the school's spring fundraiser.
Students sold magazine subscriptions earlier this semester and earned about $3,500 for the school, which will be used for their reward field trips - such as the eighth-graders' trip to Worlds of Fun in May - and other school expenses, LMS assistant principal Brooks Jenkins said.
Jenkins said the school has had the BMX stunt show as a reward for several years, but this was the first in recent memory that included subjecting himself and principal Kerry Brungardt to pies in the face.
"It wasn't bad," Jenkins said afterward.
Six students were selected randomly to throw the pies. The first, Eric Pilloni, wasn't shy about hurling the aluminum plate at Jenkins. The other students, all girls, seemed more hesitant.
Brettney Peters, a sixth-grader, said it was "pretty scary" at first to throw a pie at Brungardt, but she got over it and even said she'd do it again.
"It was fun. It felt good," she said.
Photo Gallery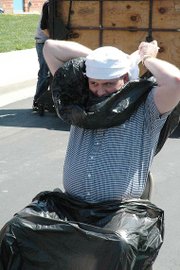 LMS pie toss
Six Lansing Middle School students who participated in a school fundraiser were chosen to throw pies at principal Kerry Brungardt and assistant principal Brooks Jenkins. The pie throwing took place in the school parking lot April 20.
However, Brettney said the action could have been more satisfying if Brungardt hadn't been so well protected - before the pie-throwing began, Brungardt covered up with a trash bag over his legs and another over his arms and torso. He also tied a towel around his head so only his face was exposed.
"Mr. Brungardt cheated with the towel thing," Brettney said.
The BMX bike riders showed students how to achieve a "natural high" as they raced across the parking lot and up and down ramps, performing jumps, flips and twists and catching big air as students cheered.
The performers put on an exciting show for the students that included a message to remain drug-free. The Creative Sports Stunt Team, based out of Orange County, Calif., said they celebrate Red Ribbon Week, a drug-use awareness program that usually takes place in October, throughout the year.