Doubles strong, singles improved at Leavenworth Invitational
Leavenworth — Matt Warner and Josh Robinson fully expected to be playing in the finals at the 28th annual Leavenworth Invitational.
After all, Lansing High's No. 1 doubles duo had been in the finals of all four of their previous tournaments this year, winning twice and losing twice.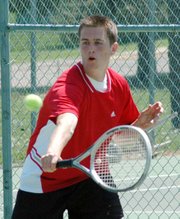 Thursday at the David Brewer tennis courts, however, they ran into an unfamiliar pair of opponents from Bonner Springs. Bonner had taken its top singles players - Matt Redlin and Isaac Garlington - and put them together in doubles for the tournament.
The pairing made for a battle royale between Lansing and Bonner in the finals where Redlin and Garlington emerged victorious, 6-4, 6-3.
"They're the best team we've played so far, definitely," Robinson said.
Warner and Robinson played catch-up throughout the final set and never quite climbed over the hump. They fell behind 3-1 in the first set before storming back behind Robinson's strong serving and Warner's solid net play to tie the set at 3-3 before Bonner pulled away for the 6-4 victory.
In set No. 2 it was the same thing. They fell behind 3-0, pulled within 4-3 and then lost the next two games. Redlin simply hit too many good ground strokes and Garlington, at roughly 6-foot-4, was lethal with his serve and dangerous at the net.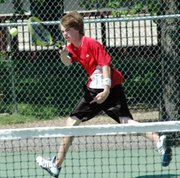 "We were on and off," Robinson admitted. "We'd go for spurts of playing pretty well, and then we'd lose a couple games and be angry with ourselves."
The match with Bonner came after a stiff challenge from Immaculata's Brent Heintzelman and Mike Bassett that ultimately went Warner and Robinson's way.
Robinson said the matches against Immaculata and Bonner would help prepare he and Warner for the type of competition they would face in postseason play.
"The better teams we play, the better off we'll be for regionals, so I think it's good that we're getting to play some pretty good competition," Robinson said.
Lansing's No. 2 doubles team of freshman Ezra Carpenter and junior Felipe Blotta also had a solid day as they placed fourth. They cruised to a 6-1, 6-1 victory over Immaculata's Gary Domke and Rebecca Kelly in the first round before dropping a tough match to Bonner Springs. They then lost a hard-fought match with Paola in the consolation finals in a tiebreaker, 6-4, 7-6 (7-4).
Lansing's singles players were not to be overlooked, either. Senior Cory Collins, making his return to the court from a bout with tennis elbow and an additional upper arm injury, lost his first round match at No. 1 singles in a tiebreak. He then rallied to beat Immaculata's Nick Domke in a tiebreak, 5-7, 6-1 (7-5), before smoking Sumner's Allen Hamilton in the fifth-place match, 6-0, 6-0.
For Collins, the strong performance made for a rewarding return to the court.
"Today, coming back, I didn't think I'd do very well, and the first match showed it," Collins said. "I've had one practice, so I knew my timing would be off. But once I got started again, I came back and pushed it."
Lansing's No. 2 singles player, sophomore Mo Meyer placed sixth. Although he won just one match on the day - a 6-2, 6-3 victory against Huiung Chea of Immaculta - he won more games and hit better strokes throughout the day.
Meyer said his main weaknesses were his overhead shots and his mental approach. He said the mental area is where he needed to improve the most.
"I've improved a lot from last year (on junior varsity). My ground strokes are coming along. I need to work on my mental aspect now, be able to get focused and hang in there," Meyer said.
Lansing next plays at 4 p.m. Monday at David Brewer when Immaculata plays host to a LHS and Maur Hill in a triangular.