A strange sweep
Lions lose focus at times but still find way to win
Normally when a team commits three errors on the final play of a softball game, the result is not good.
Then again, there was nothing normal about Lansing High's doubleheader against Bishop Ward Tuesday afternoon at Lansing City Park.
The Lions used an overthrow melee at the end of game one to ultimately record the third out in a 3-2 victory. They then added a 10-5 victory in the nightcap.
It was without question one of the strangest doubleheaders the Lions have ever played, but it also was one of the most important. By earning the sweep, the Lions (9-3) improved their chances of earning a top seed in the regional tournament. They also set up a Tuesday afternoon showdown with Tonganoxie for first place in the Kaw Valley League.
"We know that we have a chance at regionals and getting a high seed, and we're trying to come out first in the league because we haven't done that before," said senior left fielder Jessica Stark.
If the Lions are going to achieve either of those goals, they likely will have to play better than they did Thursday.
Freshman pitcher Brittney Lang struck out 15 batters in game one, but it wasn't her sharpest performance of the season. She fell behind in the count numerous times, but she had the poise to battle back time and again. She struck out the side in the first, third and fourth innings and struck out three more in the second despite allowing two runners to reach base.
Lansing needed Lang to be sharp, because its bats took a while to warm up. LHS stranded a base runner in each of the first three innings before taking a 1-0 lead in the fourth. That's when sophomore Morgan Chiles ripped a leadoff single, stole second, advanced to third on a passed ball and then scored on Dana Sanders' base hit to left field.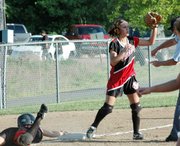 Lang walked the first batter of the fifth inning before retiring the next three, but she wasn't as fortunate in the sixth. Three errors by the infield allowed the game-tying run to score.
The Lions struck back in the seventh when Sanders reached on an error, Lang hit an infield single and Sara Logan ripped a run-scoring single up the middle. Kasey Denney then reached on a bunt and Nicole Holland hit an RBI-single up the middle to make it 3-1. That set the stage for the stunning near-collapse in the top of the seventh.
Ward's Amelia Bartkoski hit a leadoff single to right. The next batter grounded out. Then Logan made a difficult running grab in shallow right field to record the second out. After that, things got crazy.
Hannah Dusil stepped to the plate and ripped a base hit to right-center field. An attempt to gun down Bartkoski at the plate was unsuccessful as a wild throw (error No. 1) sailed over catcher Nichole Twitchel's head. Twitchel scooped up the ball tried to throw out Dusil at second base. The throw went wide (error No. 2) and sailed into the outfield. Logan misplayed the ball (error No. 3) in right, but she quickly recovered and fired it to the infield. By then, Dusil had rounded third and considered scoring. A quick throw back to third allowed Chiles to apply the game-ending tag.
"I was like 'Oh, God. Please, someone step up and catch the ball,'" Stark said with a laugh, recalling the final play.
Stark said she thought the lack of focus in the final two innings of game one could be attributed to the Senior Night ceremonies that took place between games.
LHS coach Terry Cornett said he was concerned that the Lions almost let the game slip away.
"I know they're only kids and all, but if they're going to be as good as they can be, they can't lose focus," he said. "They've got to get the game over with, and then they can get focused on Senior Night."
Stark, Twitchel, Sanders, Denney and Holland were honored by their coaches, teammates and fans between games. Then it was back to business.
Sanders took the mound in game two. She struck out two of the first three batters she faced, but Ward strung together a walk and a double to take an early 1-0 lead. Lansing struck back in the bottom of the inning when Amanda Darrow laced a one-out double into the gap. She advanced to third on a base hit by Twitchel and then scored on a single by Stark.
After logging one run in the first inning, the Lions blew the game open with a five-run second. Lang ripped a leadoff double, Denney walked, Holland pounded a two-run double, Darrow walked, Twitchel was hit by a pitch and Chiles ripped a two-run triple.
"The first inning we waited to hit a little bit, and then we got in our groove. In the second we were just pounding it," Stark said.
Photo Gallery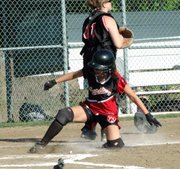 LHS softball earns Senior Night sweep of Bishop Ward
LHS plated four more runs in the third inning. Jasmine Holland hit a leadoff single, Denney, Darrow and Twitchel walked. Chiles hit a three-run double. With that, the game appeared to be just about over.
It was far from done. Sanders retired the side in the fourth and fifth innings, but Ward plated four runs in the sixth off five hits. Suddenly it was 10-5. A leadoff walk in the top of the seventh made things even more interesting, but Sanders forced two fly outs and a strikeout to end the game.
Lansing next plays at 4:30 p.m. Tuesday at Tonganoxie for a share of first place in the Kaw Valley League. Stark said she knew the Lions would have their hands full with the talented Chieftains.
"I hear that their pitching is good, and they're young and they're energetic and they really want to come out and win," she said. "We're going in knowing that we have tough competition and it's going to take a lot of work, but we have full confidence in ourselves that we're going to come out and win."