Tellefson wins 1st District
GOP

nod
Field set for November election
J.C. Tellefson has passed the first hurdle in his second chance to join the Leavenworth County Commission.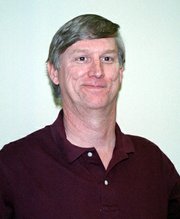 Tellefson, vice president of special operations at a halfway house for homeless veterans, defeated Leavenworth businessman Sam Maxwell III, 450-323, to win the Republican nomination for 1st District County commissioner.
The totals are unofficial until 9 a.m. Friday when they are canvassed by Leavenworth County commissioners.
Republican voters in the northern part of the county were choosing between Tellefson and Maxwell. Tellefson now will face Democrat Ed Sass, the county's director of solid waste and noxious weeds, in the November general election. The 1st District seat is now held by Democrat Don Navinsky, who is not seeking re-election. In the 2000 election, Navinsky held off Tellefson to win election to the board.
In the GOP gubernatorial race, Leavenworth County voters were mirroring the pattern of Republicans statewide. With all county ballots tallied, State Sen. Jim Barnett was the top choice with 799 votes. Behind him were Ken Canfield, 679 votes; and Robin Jennison, 480 votes. Statewide, with all 3,305 precincts reporting, Barnett won with 36 percent of the vote; Canfield was second with 26 percent, followed by Jennison with 22 percent of the vote.
Barnett's win sets up a November race against incumbent Democratic Gov. Kathleen Sebelius.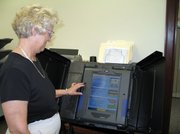 The GOP also featured two statewide races in which incumbents were challenged.
Voters in Leavenworth County barely gave the nod to incumbent State Insurance Commissioner Sandy Praeger. She outpolled challenger Eric Carter for the GOP nomination 1,288 to 1,286 votes. But statewide, Praeger won with 60 percent of the vote to Carter's 40 percent.
In the race for the GOP nomination for secretary of state, incumbent Ron Thornburgh won easily with 73 percent to 27 percent over State Sen. Kay O'Connor; in the county Thornburg received 1,602 votes to O'Connor's 985 votes.
On the Democratic ledger locally, the feature race pitted incumbent Janet Waugh against political neophyte Jesse Hall for the 1st District Kansas State Board of Education race. In Leavenworth County, Waugh easily outdistanced Hall, 1,173 to 522 votes. Overall, Waugh took 63 percent of the vote compared to Hall's 36 percent with all 190 of the district's precincts reporting. Waugh faces no opposition on the November ballot.
In the other Democratic election, for the chance to face Thornburgh in the secretary of state race in November, State Sen. David Haley claimed a 317-vote win over challenger Bob Beattie, an author and lawyer from Wichita. More than 69,000 votes were cast in the race, which wasn't decided until midmorning Wednesday when tallies from six precincts in Finney and Haskell counties finally were received. In Leavenworth County, Haley received 1,089 votes to Beattie's 466 votes.