Aging sweeper could be brushed aside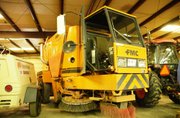 What looks like a prop from Blade Runner, kicks up more dust than a combine, and has driven down every street in Lansing?
Lansing's street sweeper, of course.
But Lansing Public Works soon may be parting ways with what officials describe as an ancient machine, a 1990 FMC 3000, if Lansing City Council follows City Administrator Mike Smith's budget recommendations for 2007. Among the purchases slated for the coming year, buying a new street sweeper is high on the list.
Though it has served its purpose well, the 16-year-old machine currently in use is literally falling apart. But the 16 years haven't been long enough for Jeff Focht, Lansing streets superintendent, to forget how the streets were cleaned before the orange giant.
"I remember the days we used to go along with a broom hooked up to a tractor," Focht said.
As Lansing's burgeoning population and geographic area expands, however, the aging sweeper is having a harder and harder time keeping up. Focht said the city's streets are cleaned primarily in the spring to remove salt and sand from the winter and at least once more each year when the streets are dirty.
Focht guesses that the machine could cover every road in the city in around 10 days of operation, during which it would collect between 30-40 tons of debris. But even when the streets appear clean, looks can be deceiving.
"The streets may not be dirty," Focht said. "But you'd be amazed how much it'd pick up."
Lately the old sweeper has suffered more and more down time. A section several feet wide even had to be welded over a hole that had rusted through the hopper. Public Works employees have spent more time and money repairing the machine in the past several years.
But soon that may all change.
If the council approves the recommended budget, Public Works will be in line to purchase a new $170,000 Elgin Crosswind street sweeper through a five-year lease. A new machine which would dramatically improve the efficiency and efficacy of the Streets Department. It's nothing frivolous, however, says John Young, Lansing Public Works director.
"We'll have a lot better productivity because the new machine should be operating all the time," Young said. "Right now we spend a considerable amount of time with that (old) machine breaking down and being repaired."
To make sure that the new sweeper was rigorous enough for even Lansing's dirtiest streets, Public Works officials test drove several sweepers on a stretch of road they know as notoriously dirty: East Gilman Road.
"With all the truck traffic and equipment hauled in there, it's always extremely dirty," Young said.
The Elgin performed the best of the test sweepers, picking up nearly everything in its path. In several months, it may be unleashed upon a street near you. Young looks forward to the boost in service the department will be able to provide.
"It's a huge difference just in the technology," Young said. "When it is running, in the time on the road we'll be able to clean a lot more street than with the existing one per hour."
As for the old machine, Young foresees that it will go for bid and could be purchased by a commercial establishment like a mall for cleaning parking lots. It could perform smaller tasks admirably, he said.
"We've outgrown it," he said. "It was a used machine and it served its purpose."
Young doesn't think it will be hard saying goodbye.
"I don't think anyone will be sad to see it go," he said. "The only thing they'll have memories of is all the skinned knuckles from working on it."