Birthrights realized in driver's ed
Teacher sees few changes in 36 years beside student drivers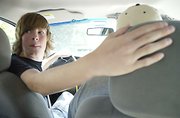 The next generation of Lansing youths is claiming what's become an American birthright - and chances are, you're watching them do it.
You probably see them every year, awkwardly piloting the vehicles of their destinies: the cars marked "Student Driver."
With no fear of swelling gasoline prices or scarce high school parking spaces, this year's round of driver's education students are cruising one stretch closer to claiming theirs. But for Rick Hodam, who's been teaching driver's ed for decades, not much has changed through the years.
"It's pretty boring 95 percent of the time," Hodam says. "The other 5 percent of the time you can have your heart in your throat, not sure if you're going to make it home."
Hodam sits in the passenger seat of a modified Ford Taurus. The car has an extra brake pedal on the passenger side of the front to allow for emergency intervention. But in 36 years of student drivers, Hodam has sat through a lot of new drivers but only one major accident.
His two charges for the day, Josh Greene and Sean Gowdy, have embarked on the final voyage of their driver's ed careers: their driving test with Hodam. It's the last step in the class.
And though it's common for students to come to Hodam with some driving time under their seat belts, sometimes parents' reluctance - or terror - can limit the progress of fledgling drivers. Because a permit prevents students from driving without a full fledged driver, if parents are too timid to ride as a passenger for their children, then it's sometimes impossible for young drivers to improve.
"It's kind of a vicious cycle," Hodam says, explaining his quick solution to the dilemma.
"If they're having trouble driving, you just drive more times."
Gowdy, riding backseat while waiting to take the wheel, is familiar with the stress that parents can feel - and create - while helping a student driver.
"My mom kind of freaks out," he says.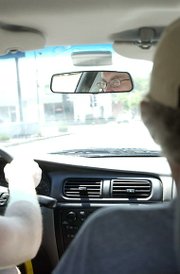 Both Gowdy and Greene have had previous experience. Greene has had his learner's permit for more than a year, and following another great tradition, his parents have promised to give him his first car.
"I got a hand-me-down from my dad," Greene says. "It's a 1989 Honda Civic."
But driving may lose some of its appeal for students this fall. Due to construction of the new high school auditorium, the number of available student parking stalls at LHS could drop by as much as 120 spaces. And the effect of that loss is going to be felt almost entirely by the students, school officials say.
Since parking will be tougher than ever, administrators have decided to waive the standard fee for the pass. But before more students than ever begin driving to school, they want to make a reminder that a student parking pass has never guaranteed a parking spot.
Who will be driven to beat the droves of student drivers? Gowdy, for one. He's got a special edge on the competition: early extracurricular activities like football practice.
"I don't think parking is going to be too bad," Gowdy says. "I'm going to be there an hour before everyone else."
Though Greene doesn't share the honor of the early activities, he's planning a similar strategy.
"I'm just going to wake up early and hope I can get a spot," Greene says. "I'm looking forward to it. It's about the only thing I'm looking forward to at school."
Perhaps it's truly enough to get high school students up before dawn.
After 90 minutes of negotiating the hazardous streets of downtown Leavenworth with a minimum of jerks and bumps, Hodam instructs Gowdy to steer the car back to Lansing High School, the point of departure.
He makes out two all-important certificates of completion, which the students can trade for a restricted driver's license, and hands them over with an admonition.
"You're gonna make some mistakes, guys," he says. "Do it in the parking lot at 15 miles per hour, not out on the highway going 55."
And though the threats are clear and present, Greene is looking ahead to a new world of opportunity. The only thing holding him back?
Gas prices.
Greene, at least, will be footing the bill for his own fuel.
"I think I'll be a little bit more motivated to get a job," he says.