A day for Sean
Inaugural
LHS

flag football tournament captures spirit of former Lion Sean Ryan
No matter what the time, the place or the weather conditions, Sean Ryan loved playing football with his buddies.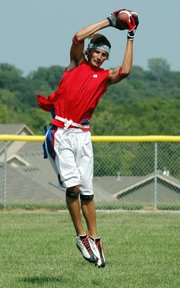 If he were still alive, there's little doubt he would've been among the 100 players sweating in the afternoon sun Saturday during a flag football tournament at Lansing High. Instead, the players and volunteers who made the inaugural Sean Ryan Memorial Football Classic possible gathered to celebrate the legacy of their late friend with a spirited day of football.
"Sean would've loved this," said Debbie Ryan, Sean's mother. "He just loved to be able to play. You'd go to all the different places, all the different games, and you'd sit through the rain and the cold and the heat. But he just loved it."
A 2003 LHS graduate, Sean Ryan died April 8 after losing control of his Dodge Dakota on Kansas Highway 10 near Eudora. One of his closest friends, 2003 LHS grad Blake Deere, wanted to do something in his friend's honor. After extensive discussion with his father, LHS assistant football coach Kyle Deere, the flag football tournament began to take shape.
The plans for the tournament were twofold. The first was to bring together Ryan's friends and other Lansing alumni for a day of football and fellowship. The second goal was to raise money for the Sean Ryan Memorial Scholarship, a new scholarship that will go to a graduating football senior each year.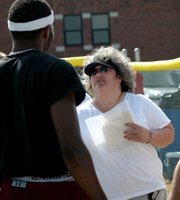 Blake Deere said he'd expected to have five or six teams sign up for the tournament. He said he was overwhelmed when 14 teams signed up to play and 11 showed up on game day. In all, about $4,000 was raised to start the scholarship fund.
"I'm just glad those guys took time away from their lives to come play some football and contribute to this scholarship for Lansing," Blake Deere said. "It just tells you how much the Lansing community really supported everything we did today, and it shows you what kind of a person Sean was."
The tournament brought together Ryan's friends from throughout the area. In addition to Lansing graduates, alumni from Leavenworth, Immaculata and Tonganoxie, participated in the tournament. So did a number of University of Kansas students and football players from the University of St. Mary. Former LHS assistant coach Trey Hinkson made the two-hour drive from Cottonwood Falls to participate. A contingent of about 40 volunteers and friends of the Ryan family also were on hand the entire day.
"You never think of your children like that, that Sean's name could bring all of these people here," Debbie Ryan said. "It'll be nice that somebody will get a scholarship out of it, and it will be in memory of Sean because his friends cared so much."
Debbie Ryan said the show of support at the tournament was heart-warming.
"It makes you feel good to know there are people who care about your son and his memory," she said. "It's nice to know people loved him as much as I did."
Bryan Shelley, a 1999 LHS graduate and current Lansing assistant football coach, wasn't close with Sean Ryan, but Shelley said he felt like he knew Ryan better after Saturday.
"Sean graduated the year before I started coaching, so I didn't get to know him very well," Shelley said. "But with all of the people that enjoyed being around his company that came out today, you learn more about him."
Besides celebrating Ryan's life, the tournament also provided an opportunity for former Lansing students to rekindle friendships. That was the case for 1999 LHS graduate Davis Hodam, who drove back from Lincoln, Ill., to play.
Photo Gallery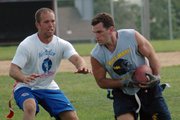 Sean Ryan Memorial Football Classic
"We've been talking about doing something like this for a long time, and finally an opportunity came up to do it for a good cause," Hodam said. "To be able to do it in Sean's memory, and to be able to see guys you haven't seen in a long time, that's something precious."
Friends since they were four years old, Shelley and Hodam teamed up to help their team place second. A squad of current University of St. Mary players won the title.
From the prayer at the start of the day to the handshake line and plaque presentation at the end, the tournament went off without a hitch.
"We didn't have any situations. We didn't have anything out of the ordinary. Everything went pretty smooth," Kyle Deere said. "It was a long day, but it was a good day."
As much as the tournament meant to those participating in it, it meant even more to the Ryan family, Debbie Ryan said.
"The people that did all of this work, it's amazing," Debbie Ryan said. "How do you say 'thank you' for something that special? There are no words to describe it."