He keeps the boats afloat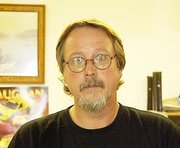 Frank Nash never thought he'd become a marine technician, but he's stayed in the field for 31 years.
While looking for a job after graduating from Leavenworth High School in 1975, Nash took a job with Midwest Marine, where he hoped his love for engines would be an asset.
"I've always tinkered around with car engines since I was young," Nash said. "My dad was a mechanic, my grandpa was a mechanic.
"I always had grease around, so I had to get into it eventually."
But the transition from cars to boats wasn't simple. Though he had learned about automotive repair in high school, Nash quickly found that marine and car engines are different.
To bridge the gap, he enrolled in classes and learned as much as he could about marine motors. After three decades, it's second nature.
"This is about the only thing I know," he said.
In 2001, Nash opened his own shop, Frank's Marine Repair in Lansing, where he and his son, Ryan, continue to service boats and marine engines. Though not much has changed in the boating world through the years, Nash is surprised that people can still afford it.
"In '75 you could buy a nice little runabout boat for $2,700. Now it's like $20,000," he said. "We used to charge $12 an hour. Now it's $70."
Despite the costs, Nash's business is booming. He's busy almost all year, a fact that keeps his feet, well, on the ground.
"I still don't go on the water," Nash said. "In the summer when you can do it we're busy and in the winter it's too cold : If I had time to do it, I would.
"Someday I'll retire and do all that."
Name: Frank Nash
Address: 1823 High St., Leavenworth
Occupation: Marine technician
Family: Vicki, wife; Ryan, son
What do you like most about Lansing? That we're getting more restaurants
What do you do for fun? I just bought a new motorcycle. We go pheasant hunting in the fall. I have a hot rod too ...
What's the best advice you've ever received? Probably to get to work on time and always do your work.