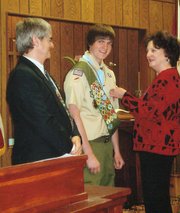 On May 7, Jonathan Jeb Stewart, a Life Scout from Troop 366, earned Scouting's highest rank of Eagle Scout. Less than 4 percent of young men who enter Scouting achieve this distinction. Larry Noell and Greg Beck have been Jonathan's Scout masters. Before the ceremony, Jonathan was presented with a notebook filled with letters of congratulations from dignitaries from around the world.
The Eagle Court of Honor was at The Rock of Ages Chapel in Leavenworth, where Chaplain Gary T. (Sam) Sanford was the guest speaker. Sanford thanked Jonathan for his service project and recognized the Eagle Scouts as leaders for life. He challenged them to look for opportunities to serve God, community and country.
For his Eagle Project, Jonathan with the help of his fellow Scouts and other volunteers, cleared out a portion of Three-Mile Creek at The Rock of Ages Chapel. This portion of the creek had been flooding the church, its parking lot and some homes in the neighborhood. Jonathan and the other volunteers cut down branches, picked up trash and repaired a bridge over the creek.
Jonathan, 17, is the son of Dr. Jack C. and Sarah Stewart of Lansing and the brother of Diana Stewart. Jonathan will be a senior at Christ Prep Academy in Kansas City, where he is an honor student and a member of the baseball team.