Coping neighbors
Residents living on Main say they're getting along fine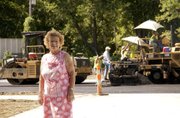 Frieda Brown has lived at the corner of Ida and Main Streets since 1959, but these days, bulldozers crowd her doorstep.
She's often found in the ceramics studio in her garage, which looks out onto a view of Ida Street and Seven-Mile Creel Bridge, which have been the main stage for the Main Street project so far.
But despite living and working so close to all the work, you won't catch Brown complaining about the construction. In fact, she's been quite impressed by it. The crews working outside her house have braved scorching heat - not to mention asphalt - and continued laboring even as the mercury pushes above the 100-degree mark.
"I've never seen people work like this," she said of the crews.
With 10 weeks under its belt, the Main Street construction has changed the face of Lansing. And though few incidents have arisen from the traffic congestion, everyone who travels Main Street can feel the effects.
But while some drivers can detour to avoid traffic, many of those residing along the street must simply be patient.
Brown, for one, said she couldn't complain about the temporary inconvenience and noise from the nearby construction. Not that she's been pleased with all of its consequences.
Brown's main problem is the land to the south of her house at 201 N. Main St. What used to be Ida Street is now a dirt plot that the city has annexed to her property - a lot that is nearly the size of the one on which her house now stands.
And though she said the city planned to cover the space with sod, it presents a problem for Brown: She now has a much larger yard to maintain.
"I'm going to have to buy a riding lawnmower," she said.
There are a few minor things too.
After a subcontractor moved the utility lines near her house, Brown noticed that they had placed a large telephone pole barely one foot from her front porch. Though she said she contacted the city to protest, she received mixed responses.
"First they say it's temporary, now they say it's permanent," Brown said.
But despite what she said were small problems, Brown hasn't been disturbed by the workers.
Others, like Amy Herzog, at 122 S. Main St., seem even to invite the work.
"It seems like it's going fine," she said. "We're actually looking forward to it."
And for Herzog, who lives between the Main Street and the reverse frontage road construction areas, the past few weeks have been a double-dose of roadwork. But Herzog said the city had promised that residents living along the frontage road construction would have access to the new street as soon as it was ready.
The one difficulty Herzog consistently encounters is when she tries to turn across the oncoming lane when Main Street is busy.
"The only thing that's been difficult is getting in while we're heading north," said Herzog, whose house is on the west side of Main Street.
"Really it hasn't been bad until the past few days."
Turning into her drive while heading south, however, has been a snap since the western two lanes have been closed. It's an experience that Jennifer Lindsey shares.
At 109 N. Main St., Lindsey also lives on the west side of the road, several houses down from the Seven-Mile Creek Bridge construction.
"It's actually better (with the west lanes closed) because I have the whole lane," she said.
After a year with a Main Street address, Lindsey said she had grown accustomed to the challenge that living on the road presents. She said the street was always noisy, so adjusting to the extra decibels from the construction wasn't too great a burden.
"It's always loud here, (but) it's been a little bit more," she said.
Like Brown and Herzog, Lindsey continues to keep the big picture in mind when she sees the construction. She knew what she was getting herself into when she moved in.
"I understand what they have to do," she said. "Living on this street is hard."