95th birthday celebrated in style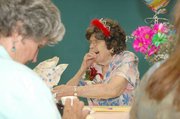 Myrtle Parsons was the center of attention at this month's meeting of the Lansing Community Club, and with good reason.
Tuesday was the longtime Lansing resident's 95th birthday.
In addition to the club members, Parsons was joined by four of her five children, plus a smattering of grandchildren, great-grandchildren, great-great-grandchildren and other relatives for birthday cake, presents and a rousing rendition of "Happy Birthday."
"This is wonderful," Parsons said of the party.
Mary Ann Sherley, the club's president, thanked Parsons and her family for attending the party. "I know she means a lot to you," Sherley said. "She means a lot to us, too."
Parsons said she moved to Lansing about 60 years ago, from High Prairie Township, after having lived in Twin Falls, Idaho.
She and her husband, Kenneth, who worked at Kansas State Penitentiary, purchased a house in Lansing where they raised their family: daughters Mildred, Linda and Leona; and sons Forrest and Terry.
Parsons said her children behaved, for the most part, while growing up.
"If they didn't, they'd get a switchin'," she recalled.
Once the children had grown and completed their schooling, Parsons went to work as the head cook for the Lansing school district. It was a job she held for 10 years.
"I like to cook," she explained. "I still cook today, and the kids all seem to like my food."
Ada Young, a fellow member in the Community Club, said Parsons continues to delight club members by baking pies and bringing them to the monthly meetings.
Parsons has been a member of Lansing Community Club for the better part of 60 years. She began attending while she was still raising her children, stopped while she was working, then rejoined.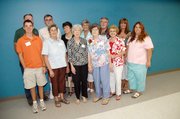 "I used to bring that little girl down there to the meeting," she said, pointing to her now-grown daughter Linda Noyes.
Parsons' husband died in 1991, but Parsons hasn't moved from the house she and Kenneth bought when they first moved to Lansing.
"She's very independent," said Parsons' daughter Mildred Shank.
Until December 2005, Parsons continued to drive a car, having passed her last driver's license exam shortly after she turned 94.
Parsons' granddaughter Theresa Fearn said the driver's examiners didn't know what to think when the nonagenarian came in for her test. "She passed with flying colors," Fearn said.
Finally, nine months ago, Parsons acceded to a doctor's request that she stop driving.
"The reason I don't drive is because I have some heart problems," she explained, noting she didn't want to be behind the wheel when a heart problem occurred and risk hitting an innocent bystander.
Now, she gets around with the help of her neighbor and 90-year-old sister, Millie Hockett.
"She takes me everywhere," Parsons said.
But where Hockett's hair is white, Parsons' hair remains dark despite her elderly status.
Parsons swears it's her natural color.
Some of her friends, she said, don't believe her. "They think it's been colored, and they ask me, 'What do you do to it?' I tell them, 'Nothing. Ask my hairdresser."