Buried in books
OK

with aide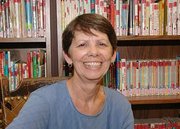 Though Margel Jones will quickly tell you she's a people person, she has found that she loves being buried in books.
Working at Lansing Community Library, Jones enjoys the daily contact that she has with the library's patrons, but she has come to cherish the time she spends alone with the books as well.
"I really like cataloging and working with the books," Jones said. "You come across books that you haven't seen in years."
And though she hasn't read them all, the power of books is familiar magic to Jones.
"When you read one, you kind of escape :" she said. "You're able to get away from reality and some of the writers just amaze you."
Jones looks forward to the library's future expansion. Right now, she said, the space is filled top to toe, and is so limited that the library even has to be careful accepting donations.
"It'll be so great," she said. "Right now we're limited on how much we can acquire.
"And there are so many generous people."
Jones never saw herself working in a library, but a turn in her life forced her to leave her newly-started insurance agency to raise her grandson. After working several jobs that didn't suit her, Jones eventually decided to try her hand helping at the library.
"I really like it better than I thought I would," she said. "I was amazed at how many dimensions there are to the library."
The hardest part she
remembers is learning to use the library's computers and learning the cataloging systems.
Though she loves being exposed to all the different stories, she admits there's not enough time to reminisce about all her favorite characters.
"When you go through 29,000 books, you're not going to remember each one of them."
Name: Margel Jones
Address: 142 Fourth Ave., Leavenworth
Occupation: Library assistant
Family: Cathy, Charlotte and Cynthia, sisters; Douglas, brother; Butch and Shawn, sons; Patrick and Emily, grandchildren.
What do you like most about Lansing? The people are really nice.
What do you do for fun? I like to ski and I like to work with my flowers. I also like to watch a good movie every one in a while.
What would surprise people about you? I think for everybody that knows me there isn't much that would surprise them.
What's the best advice you've ever received? Do unto others as you would have them do unto you.