Lindsay Ann Larson and Justin Allen Chapman of St. Louis were married Aug. 27, 2005, at the Memorial Chapel, Fort Leavenworth.
Rich Budwell officiated the ceremony.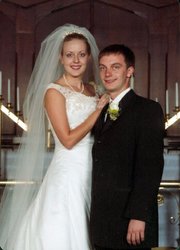 The bride is the daughter of Brian and Marilyn Larson of Lansing and the granddaughter of Elna Lundell of Livingston, Wis. She graduated from Lansing High School, Kansas State University and St Louis University School of Law. She is a law clerk for the Honorable Judge William D. Steihl in the U.S. District Court for the Southern District of Illinois.
The groom is the son of Mike and Kelley Chapman of Crofton, Ky., and the late Angela June Chapman of Dyersburg, Tenn. He is the grandson of Jerry and Jane Chapman of Hopkinsville, Ky. and Jesse H. and Mildred Bradford of Dyersburg, Tenn. He is a graduate of Dyer County High School and is a student at Logan University of Chiropractic.
The bride was given in marriage by her father.
Jen Shafferman was the maid of honor. Bridesmaids were Erin Young Maslowski, Amber Morehead, Elizabeth Chapman, sister of the groom, and Lindsay Larson, sister-in-law of the bride. Kate Chapman, sister of the groom, was the candlelighter. Avery Larson, niece of the bride, was flower girl; and Tyren Shelly, godson of the bride, was ring bearer.
Brian Morgan served as Best Man. Groomsmen were Heath Ladd, D.J. Peery, Patrick Hertzel and Christian Larson, brother of the bride.
Jennifer Miller and Kara Ritchey were program and guest book attendants. A reception was held following the ceremony at Falcon Lakes Golf Course.
Following a honeymoon to Banff and Lake Louise, Alberta, Canada, the couple resides in St. Louis.