New exhibit at museum looks beyond prison walls
Laura Phillippi gets an up-close look every day at the Lansing Correctional Facility.
The walls of the prison and the watchtowers that hover over them are just steps away from Lansing Historical Museum, where Phillippi is site supervisor.
But beyond the occasional inmate crews performing groundskeeping work around the prison grounds and public rights of way throughout the city, Phillippi said she wasn't all that acquainted with the community service projects in which LCF inmates were involved.
"You see them out here," Phillippi said, "but you don't see them anywhere else : at least you don't notice them."
That's since changed with Phillippi's work on the museum's latest exhibit, "LCF: Providing Service to Our Neighboring Community." The exhibit opened Tuesday and will remain on display through Oct. 29 at the museum, 115 E. Kansas Ave.
In putting together the exhibit, Phillippi discovered prison inmates have been deeply involved in community projects throughout Leavenworth County. They're also learning skills through jobs with Kansas Correctional Industries - the inside-the-prison factories that produce everything from paint to furniture - and with private employers throughout the county. And they're taking part in such endeavors as dog rescues, art, song, toy-making and bicycle repair.
Phillippi said she was most struck by the amount of hours the inmates put in for community service - in fiscal 2006, which ran from July 1, 2005 to June 30, 2006, the inmates put in more than 74,000 hours of work on projects in Lansing, Leavenworth, Easton, Tonganoxie and other parts of Leavenworth County.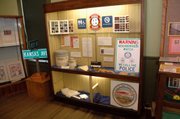 For the city of Lansing, for example, inmates spent more than 4,300 hours cleaning creeks and picking up trash in the city. They also spent more than 2,000 hours performing general maintenance and painting for the Lansing school district.
The exhibit's displays pay homage to all of the different work the inmates perform. But the displays also show off the inmates' artistic sides, too, with paintings and handmade jewelry on exhibit.
Warden Dave McKune and his staff were on hand for Tuesday's opening, and he gave his nod of approval.
"It's a wonderful exhibit," McKune said. "Laura's really done a good job of representing the spectrum of what all we do over there" at the prison.
If you go
Lansing Historical Museum, 115 E. Kansas Ave., is open from 10 a.m. to 5 p.m. Tuesday through Saturday and 1 p.m. to 4 p.m. Sunday. Admission is free. The exhibit "LCF: Providing Service to Our Neighboring Community" continues through Oct. 29.