Start of school to add to traffic woes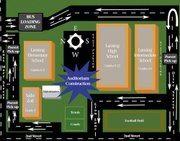 Beginning next week, Main Street won't be the only road in Lansing with backed-up traffic.
Lansing public schools will be in session beginning Wednesday, and city and school officials are advising residents to prepare for a rough couple of days while students, teachers and parents get acclimated to new traffic patterns and start-of-school traffic.
Anticipating the start of construction on a new auditorium at the high school, school administrators are reversing traffic flow around the intermediate and high schools. Though the new plan is designed to maximize traffic flow efficiency, they fear transitioning to the new plan will involve some growing pains for parents and faculty alike.
But administrators are betting that more and more parents - and students - will opt to beat the traffic altogether by taking advantage of beefed up bus routes new for 2006. If not, they joke, the traffic around the elementary, middle, and high schools will put the worst Kansas City gridlock to shame.
If students take advantage of the opportunity to ride the bus, though, the administrators say heavy traffic should be held in check.
"The fewer cars we can have on campus, the better," said Carolyn Jaqua, administrative assistant to the director of maintenance/capital improvement.
BUSING
To help reduce the campus traffic load and, more importantly, risks to students who must cross Main Street to come to school, the school district has renegotiated its contract with Durham School Services bus company.
Due to the ongoing construction, there will be no crossing guards on Main Street. Instead, if Main Street lies between a student's home and their school, then the student will be able to ride the bus, free of charge.
Additionally, the district has negotiated to provide bus service to any students living outside a 1-mile radius from their school, down from last year's 2.5-mile radius.
The necessity of the new arrangements is clear to Jaqua.
"The main reason we're doing this is for the safety of the children," she said.
Dale Bohannon, director of maintenance/capital improvement, added that the best possible scenario for everyone would be if students take advantage of the district's new bus service.
It will help reduce the traffic congestion in areas around the elementary, intermediate, and high schools, and help eliminate the risk of crossing Main Street.
"We do not want any children crossing that highway," Bohannon said.
STUDENT PARKING
Unless students utilize the expanded bus service - district patrons are paying for it after all - Bohannon foresees a gold rush mentality for parents hoping to win a prized spot at the front of the end-of-school pick up queue.
But long before that, high-schoolers with the privilege of driving to school may be leaving early each day to stake a claim of their own.
The construction project will wipe out nearly one third of the parking around the intermediate and high schools - somewhere around 120 spots - and the effect of that loss is going to be felt almost entirely by the students, Bohannon said.
Administrators do not want to deprive students of their ability to drive their own cars to school, and have even decided to remove the parking pass fee. But they warn that a student parking pass has never guaranteed a spot, and this will be the case now more than ever.
Students 16 and older who are eligible to receive a parking pass from the school can do so at the beginning of the school year, as can any student who becomes eligible after turning 16 during the year.
MAIN STREET EFFECT
City officials say the newly reconstructed intersection at Main and Ida streets is scheduled to reopen Monday morning, Aug. 14, weather permitting. However, drivers heading northbound on Main Street will be prohibited from turning left (west) onto Ida Street to prevent traffic back-ups. Southbound Main Street traffic will be able to turn right (west) onto West Ida Street.
The city is advising Lansing Middle School parents and staff to consider potential alternate routes. A map with alternate routes is available on the Lansing School District's Web site, www.usd469.net.
The city also is advising traffic bound for Lansing elementary, intermediate and high schools to allow for more travel time due to continuing Main Street reconstruction work between Seven-Mile Creek Bridge and 4-H Road. Traffic is reduced to one lane each direction on the northbound lanes, and southbound vehicles are prohibited from turning onto Olive Street.
Southbound Main Street traffic may turn left at the signals at East Mary Street and at Lansing Lane, but the left turn lane at East Mary Street is shorter than normal due to construction.
QUESTIONS
Parents with questions regarding the new traffic flow on the intermediate and high school campus or student parking are encouraged to contact Jaqua at 727-5430.
Questions about the Main Street project can be directed to Ken Miller, the city's project liaison, at (913) 208-6650.