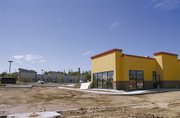 First was Popeye's Chicken and Arby's. Now, officials with Carriage Hills Plaza have started lining up other tenants for the new center in Lansing.
Among the new tenants are a financial services office, a check-cashing office, a gift store and a mailing service, said Scott Fishman, a partner in the development at Main Street and Express Drive.
"Leasing has gone slower than we had hoped," said Fishman, a sales agent with Fishman & Co., an Olathe firm that is developing Carriage Hills with ARO Real Estate of Prairie Village. "We've had a lot of lookers, but we're still waiting for commitments."
Nevertheless, the center's first phase is about half full, and buildings are just about ready for occupants.
Popeye's, which will be housed in a stand-alone "pad" building at the site, is expected to open within 45 days, said Fishman. Ground is expected to be broken soon on the Arby's, which also will be a stand-alone building.
Of the four new tenants, Fishman said he could provide the name of only one.
CitiFinancial is a financial services group that, according to its Web site, "provides home improvement loans, bill consolidation loans, money for tuition, vacation getaways and unexpected expenses." It is a member of CitiGroup, which touts itself as the world's largest financial services adviser.
Meanwhile, Fishman said the developers were close to signing a contract with another major tenant.
"The last pad site is nearly under contract," he said. "The tenant is in the food services, but I just can't say who it is right now."
When completed, Carriage Hills Plaza will be a 33,000-square foot, $10 million development.