Dodge City connection includes Denney
LHS

softball player joins Robbins, Slater at junior college
After helping the Lansing High softball team win the Kaw Valley League championship and advance to the Class 5A state tournament this spring, Kasey Denney figured her softball career was about done.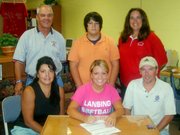 She planned to play this summer with the Lunatics, the club team coached by her father, and then head to Washburn University in Topeka to study criminal justice as a member of the Air National Guard. In fact, she already is a member of the guard, having enlisted March 16 in the 190th Air Refueling Wing based at Forbes Field.
Now, however, the Guard is on hold.
Denney had a change of heart after she got the itch to keep playing softball.
"Toward the end of the summer, I was like 'Man, I wish I'd gone out for softball,'" she said. "The next day I had a tournament (American Fastpitch Association State Tournament). Dodge City was there, and they were interested."
Denney spent the next few weeks pondering what to do. She wanted to honor her commitment to the Air National Guard, but she also wanted to play softball.
"It was a hard decision to make," she admitted. "My parents wouldn't tell me what they thought I should do. They wanted me to make the decision. I talked to my friends about it, and they were like, 'This is a once-in-a-lifetime thing. We know you love doing this. The Air Guard is going to be there, but two years at Dodge isn't.'"
With that, Denney's decision was clear. On Aug. 8 she signed her letter-of-intent. A few days later she packed her bags and headed off to school. Classes started Wednesday.
"I was freaked out and excited, because I love softball so much," Denney said of the last-minute decision.
Denney still wants to be in the Guard, but she'll resume her duties at Washburn in two years.
"After the two years here, I still want to do it," Denney said of the Guard. "I think it'll be a great experience for me."
For now, Denney is focused on her college experience at Dodge City. Despite changing her college plans so late in the summer, she said she wouldn't have any trouble adjusting to life at DCCC. That's because two other Lansing High classmates - Ryan Robbins and Jeff Slater - are there, too. Robbins and Slater play football for the Conquistadores. Denney said having long-time friends on campus would help her adjust to college life.
"They're like big brothers to me, and I've met a lot of people because of them," Denney said. "With those two, I know I can always go to them if I have a problem or need anything. I know they always have my back, so that really helps a lot."
At LHS, Denney was known for having a steady glove at second base and a laid-back personality that kept teammates loose. She was the hero of the Lions' league title-clinching victory over Basehor-Linwood when she laid down a perfect bunt that became a three-base error. She eventually scored the go-ahead run. The next inning she turned in a game-ending doubleplay.
Although her duties at Lansing were set in stone, nothing is given at Dodge.
"I could be playing a position I've never played before," she said. "He's going to move us all around."
Wherever she plays, Denney said she will be happy. She's just thrilled to continue playing softball.
"I'm just excited to be playing in a college league," she said. "I've met the whole team, and I'm already really tight with some of my teammates. They're laid back girls. They're great."