Lions feel the heat
Three
LHS

squads aim to defend Kaw Valley League crowns in 2006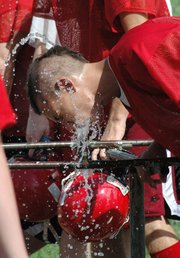 When the Lansing High football team opened fall two-a-day practices at 6 a.m. Monday, raindrops and lightning forced the squad indoors to run sprints in the hallways.
By mid-afternoon, however, the clouds were gone and 90-degree temperatures turned the second session of workouts into a scorcher.
The hot temperatures may have made practice tough, but heat is something the Lions will have to get used to this fall. After all, they'll be feeling plenty of heat all season long. The football, volleyball and boys soccer teams all are out to defend Kaw Valley League championships.
In addition, the football team had its best season in school history with a 9-2 record and made a second straight trip to the state playoffs. The boys soccer team advanced to the Class 5A state quarterfinals. The volleyball team spent most of the year ranked in the top five in the state.
Basically, all three teams have big bullseyes on their backs. And all three teams lost talented senior classes, so they will be counting on numerous fresh faces to step up and seize leadership roles if they want to defend their titles.
Two other fall sports - cross country and girls tennis - also enter the fall with big goals. A youth-laden cross country squad has doubled its size from a year ago and is stocked with talented up-and-coming runners for coaches Errol Logue and Melanie King to mold. Plus, the girls tennis team will try to make more headway on the regional scene during coach Rachel Elkins' second season at the helm. She has a talented senior class back with Heidi Schultz, Abby Hauver and Michaela Bristow, as well as and experienced base of underclassmen that will be counted on to contribute right away.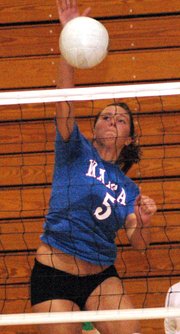 No school in the KVL was as dominant as Lansing High in the fall of 2005. Now it's 2006, school is back in session and fall sports are under way. How the Lions will fare is unknown, but look for the Lansing Current to be there every step of the way.