Match Point Tennis Camp aces inaugural summer test
When Rachel Elkins was hired last year to take over as coach of the Lansing High tennis program, she didn't just see it as a job.
To Elkins, coaching high school tennis was about building a program that went beyond the courts at LHS. She saw it as an opportunity to spread interest in the sport communitywide.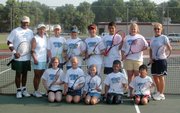 "I think you have to be the ambassador for the sport in the community, and that helps grow your high school program," she said of coaching. "That's where the ground roots are. When I grow the sport, it will feed into my program. If I accomplish the first goal, the second will just overflow into that with the growth of the high school program."
Elkins' first major stride as a Lansing's tennis ambassador came this summer when she created Match Point Tennis Camp. With the assistance of Julie Harrington and Immaculata High School tennis coach Manuel Hernandez, Elkins hoped to reach out to youth and adults alike and build more interest in the sport in Lansing.
Mission accomplished.
Elkins said she'd initially hoped to have two or three week-long sessions of 10 players each on Lansing High's two courts. Instead, she ended up conducting five sessions with about 45 new tennis players.
"It was beyond my expectations," Elkins said. "The first two weeks were closed quickly. It just kept growing."
Campers spent most of the week learning the basic strokes, court positioning and scorekeeping procedures. Then they put their skills to work in a round-robin tournament the final day.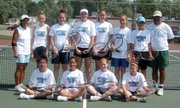 Elkins said she thought the inaugural summer camp was a success both in terms of numbers and in terms of the enthusiasm for the sport that the camp participants showed. She said the impact was noticeable by the fact that in the weeks after camp ended she saw many of the participants still playing.
"You know you've really made an impact when they're still playing the sport," Elkins said. "I think Manuel and I had a positive impact on the sport where they enjoyed it, had fun and learned from it. As a coach, that's all you can ask for."
Elkins said she hoped her joint effort with Hernandez would help the tennis talent pool improve throughout both the city and the county. She said that if players in the surrounding area improve, that will increase the overall competition and help Lansing's players improve, too.
"To do a joint venture and bring our coaching talent together so that we can share it with the kids was a good thing," she said. "We'll only get better if we have better competition, so if Immac gets better then we'll get better. Then we'll start going to bigger tournaments outside the area and start getting our name out there for being competitive. That's what we need to do to continue growing our program."
Still, growing the program starts with the grassroots effort. For Elkins, that means summer camp. This summer was her first step, and in her mind it was an ace.
"It's been a busy summer," she said. "But that's a good thing."