Murrell adds touch of Texas bravado to
BLHS
New goalie has big shoes to fill in Bobcats' net
Andy Marso
amarso@theworldco.info

The Basehor-Linwood High School boys soccer team had two all-state players last year for the first time in the program's history. One was Austin Knipp, a forward who scored 23 goals to lead the team for the third straight year. The other was Zach Lowe, probably the best goaltender in school history.
Knipp is back and poised to lead the Bobcats offense once again, but Lowe graduated last May, leaving a void in a very important position. Enter Matt Murrell, a junior with enough confidence to fill his home state of Texas, and the skills to back it up.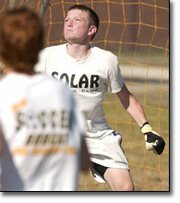 Murrell will take over at goalkeeper this year and provide a new attitude and leadership style, while hopefully maintaining the same high level of play that Lowe provided. On Monday, the first day of fall practice, Murrell repeatedly announced that this was a new Bobcats' team, one with state tournament aspirations.
"You should have seen us in the 6-on-6 league," he said of the summer league in Leavenworth that 10 Bobcats played in. "You should have seen us in the Sunflower Games."
Talking about the state tournament might be a bit bold, considering BLHS soccer has never yet had a winning season, but Murrell isn't just kidding around. He truly believes the Bobcats can advance to state this year and, for the first time ever, they seem to have the talent and experience to back him up. They return almost everyone from a team that went 7-10 and was narrowly eliminated by Maranatha, which placed third at state.
The Bobcats' biggest obstacle this year might be a lack of confidence, rather than a lack of talent or experience. For a team and a school that has had limited athletic success in recent years, it can take time to raise expectations. Murrell learned that when he transferred to BLHS last year.
"When I first got here everyone had this mindset that a .500 record would be good," Murrell said. "But I want to go for more, I want to go to state."
Murrell learned to set those sorts of lofty goals at Midlothian High, the Texas school he attended until his sophomore year. An established high school soccer power, Midlothian swept the top awards last year in Texas' class 4A district 11 taking home the offensive MVP, defensive MVP and coach of the year. Murrell was a backup there as a freshman and then found himself behind the superb Lowe last year, starting just one game.
Now a junior with a lock on the starting job, Murrell said he's excited about finally being a number one goalie for his school after starting on one of the top premier teams in the area, the Blue Valley Stars. He added that he's not nervous about filling Lowe's all-state shoes.
"Me and him have talked about it, we're really good friends," Murrell said. "We've played together and we're pretty much equal except he can kick the ball a heck of a lot farther than I can."
With Lowe gone the goalkeeping job at BLHS is securely in Murrell's hands for the foreseeable future. Not only is he the school's number one goalie, he's the only goalie. BLHS coach Kevin Vincent noted that the team will soon have to start grooming a backup on the junior varsity squad. Meanwhile, assistant coach Jaclyn Naster played opposite Murrell in an intra squad scrimmage Monday.
After watching Murrell in the scrimmage for just a few minutes, one thing was obvious: he'll be a much more vocal leader than Lowe was.
"Watch the line," he yelled to his teammates.
"Play up when Sam plays up."
"Stay with him, Cameron," and so on.
Murrell looks to have the edge on Lowe when it comes to pushing his teammates and organizing the defenders in front of him. While his constant chatter might get on some people's nerves eventually, Vincent said his play would back it up.
"I think Matt's actions will speak louder than his words," Vincent said. He'll emerge as a different type of leader than Zach was. He has all the qualities it takes to be a great keeper."
Murrell's physical style might differ from Lowe's as much as his verbal style does. The first time the opposing team in Monday's scrimmage threatened to score Murrell came way out of goal and slid into Knipp, sweeping the ball away cleanly with his feet.
"What's Matt doing playing midfield?" one of his teammates joked after the save.
That particular play was risky and not one many high school goalies would attempt. But Murrell said he'd do more of the same when the real games started.
"I'm aggressive, that's how I grew up playing," he said. "If you don't hurt them first, they'll hurt you."
That bravado is part of a new philosophy that Murrell has helped bring to BLHS soccer: be the aggressor, believe you can play with anybody, work hard and let your talent shine through.