Perseverance, faith pay off for church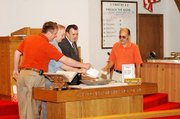 Generally speaking, setting fire to your mortgage papers isn't sound financial planning.
But as dusk crept over Emmanuel Baptist Church on Saturday, Aug. 12, its members gathered inside to do just that. They came to celebrate the culmination of years of hard work, piety and, ironically, fiscal responsibility.
"This is a milestone," said Pastor Kenneth Lake, who later ignited a fragment of the final mortgage document over a burning candle.
Taking cues from biblical precedent, the church decided to have the mortgage burning ceremony to celebrate the completion of its final payment last month. And for Lake, the significance of the event went far beyond a financial forecast: It was an affirmation of God's validation of their church.
"There's a philosophy," Lake said. "When God's people do their best, that's when God steps in and does the impossible."
For such a small congregation to pay off a 10-acre property may be impressive, but Emmanuel Baptist's story was fraught with even more difficulty. The first church on the church's land, built by members of the congregation, was destroyed when a tornado ripped through Lansing in 1982.
But Francis X. Thorne still remembers thinking the disaster may have been a blessing in disguise. Thorne sold the land to the congregation and remembers being skeptical about the soundness of the original church that the members built.
"By God, it looked like something a bunch of amateurs had come up with," Thorne said. "It was sort of leaning, right after they got it up : it was just not engineered or anything."
When Thorne awoke on the morning after the storm in November 1982, he went outside to search for damage around his own property and saw his fears confirmed. He could see the ruined church from his home.
"The roof of that church was laying upside down in the parking lot. : The whole roof, eave to eave," said Thorne, who remembers the advice he passed along to the congregation. "I said, 'Guys, God has blessed you. Take that insurance money and get a decent church built.'"
And whether the storm was an act of God or just bad luck, Thorne was impressed by the outcome.
"It was miraculous how it all worked out," Thorne said. "They were able to come up with enough insurance to build the new church."
But the reconstruction placed even more burden on the church's finances.
"This property was under a terrible bond issue for a long time," Lake said. "We've been buying both these buildings."
For longtime members like Kenneth Chinn, who joined shortly after the church moved to Lansing in 1975, having the mortgage finally paid is a huge blessing. But he's always had faith this day would come.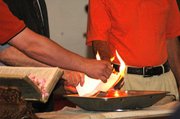 "I don't know that it's ever been doubtful, we've always trusted in the Lord and he's always come through for us," Chinn said. "I believe God has blessed our church basically because of the preaching and because of our efforts."
Chinn committed another fragment of the mortgage document to flames during the event. It was an emotional act.
"It just felt wonderful, I can't put it into words the way I felt," Chinn said. "I'm very thrilled about having our church paid for, it's just such a blessing."