School begins with no major traffic problems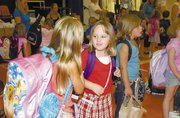 One morning down, 179 to go.
Students, teachers and parents making their way to schools Wednesday on the first day of 180 days of classes in the Lansing school district - much to city and school officials' delight - didn't bring gridlock to an already-stressed, construction-laden street system.
But officials say Wednesday was just a test run; the majority of Lansing High School students don't start school until today. The added traffic they're expected to bring has officials continuing to urge students, parents and teachers to leave early to avoid traffic tieups and tardy arrivals.
"It's been pretty good. There was a little confusion on the parents' part with traffic controls, but all-in-all it went well," Lansing Police Capt. Ben Ontiveros said of the first-day-of-school traffic.
With the Main Street System Enhancement project under way, traffic on the city's main north-south artery already is squeezed to one lane of traffic in each direction. Plus left-turn restrictions along the way have closed some usual routes to the schools.
For example, parents and students making their way to Lansing Elementary School, Lansing High School or Lansing Intermediate School from the north via Main Street can not turn east on Olive Street because of the construction. The closest alternative, which police are recommending, is to take East Mary Street. But because of construction, the left turn queue is short, and those making turns likely will be sitting through several stop lights before being able to proceed.
Students and parents making their way from the south to Lansing Middle School are encouraged to take a route on De Soto Road to Ida Street. Left turns from northbound Main at Ida - a formerly preferred route for many - are prohibited because of construction.
Ontiveros said Lansing Police would be out with extra patrols around the city's schools for much of this week, trying to keep traffic moving.
"We'll have officers at Second and Mary and on West Ida," Ontiveros said. "We hope to have more people to float around; they may be called in to traffic control."
Ontiveros said one change already was in the works, based on Wednesday morning's experience. The traffic lights at Main and Mary streets will be adjusted to allow lengthier green lights for east-west traffic on Mary Street.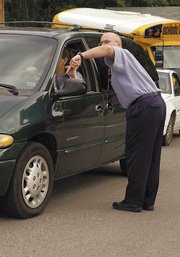 Traffic patterns also have changed around the high school and intermediate school campus to accommodate construction of the new auditorium that will be built at the high school. A byproduct of the construction is that fewer parking spaces will be available at the high school for students.
The best alternative for parents and students alike may be to take advantage of additional busing being made available this year by the Lansing school district to any student who has to cross Main Street to get to school.
"If each school bus has 20 kids on it, that means there's as many as 20 fewer cars per bus on the road," noted Brian Bode, a member of the Lansing School Board. "I'd rather be in traffic behind one bus than 20 cars."
In all, about 900 students have signed up for busing this year, nearly double from a year ago, according to district officials.
Superintendent Randal Bagby said for the most part, busing ran smoothly Wednesday morning - even with the additional students.
"We did have one bus fill up (before the end of its route), so we had to send another one out," Bagby said.
Ontiveros said he would have a better read on the school traffic situation today, when all of the high-schoolers report. But he said his initial thought was that the busing was helping to ease traffic congestion.
"I would like to think it is anyway," he said Wednesday. "We'll know more tomorrow."