Wilk to seek speaker's office
Lansing State Rep. Kenny Wilk is unopposed in his re-election bid in the 42nd House District and isn't actively campaigning in and around Lansing.
But the 13-year veteran of the Kansas Legislature is trying to round up votes for another election. Wilk has been traveling the state, courting votes to become the next speaker of the Kansas House.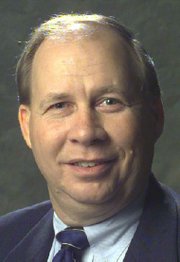 "I've been working it pretty hard," Wilk said last week just before he was to leave for a trip to western Kansas.
Wilk said candidates for the office traditionally travel the state during the campaign season, helping members of their party in their bids for election through fundraising, joint appearances and other supportive means.
"It's just expected that you go to their district," Wilk said. "They want to know you understand their part of the state and the issues that their constituents face."
In addition to Wilk, three other Republican lawmakers have their eyes on the speaker's office: Reps. Melvin Neufeld of Ingalls, Clay Aurand of Courtland and Mike O'Neal of Hutchinson. Republicans are expected to retain their grip as the majority party in the Kansas House, and electing a speaker to lead the House is one of the perks of the majority party.
This year's election for speaker is set for Dec. 4, about one month after the fall elections.
Wilk, who ran unsuccessfully for speaker four years ago, said this year's speaker's race, as in the past, probably would hinge on the preference of first-term lawmakers.
"The veterans already know who you are, what you're about, whether you can work with people," Wilk said. "You try to get out to meet the people who don't know you."
The speaker's post is one of the most powerful in state government. In addition to making committee appointments, the speaker also controls the legislative body's agenda