Elkins finds deeper talent pool in second year as tennis coach
Heading into tryouts, Lansing High tennis coach Rachel Elkins knew three varsity spots already were locked up.
Those spots belonged to senior Heidi Schultz at No. 1 singles and senior Abby Hauver and junior Lauren Elkins at No. 1 doubles.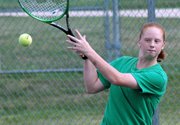 As Lansing's most experienced players, those spots were givens. As for filling the No. 2 posts, the second-year coach said she was pleased but not surprised by the intense competition to fill the spots. After all, Elkins knew she had a talented batch of new and returning players trying out for the team.
"On both varsity and junior varsity, we should be pretty solid if we stay injury free," she said. "We have a great freshman class, and you just hope that with such an athletic group that they'll stay with me for four years."
Freshman Amy Briggs earned the No. 2 singles spot thanks to a dominating performance in the challenge matches.
"She only lost one game in all four matches," Elkins said. "She's solid."
The No. 2 doubles spot will be filled by junior Christine Cordes and freshman Briana Hall. Hall joins the LHS program after taking tennis lessons in Germany over the summer. Meanwhile, Cordes will bring experience to the doubles duo after having a solid sophomore season with the Lions' JV squad last year.
Elkins said the junior varsity should be stacked with talent, too. Junior Sarah Sargent will captain the JV squad and provide experience for a slew of underclassmen. Elkins also mentioned Sargent could contend for a varsity position later in the season. Among the newcomers that Elkins expects to bolster the JV are freshmen Ariana Domke, Ashley Harrington, Katelyn Griffen and Allison Dillon.
Lansing opens its season at 8:30 a.m. Wednesday when the junior varsity competes at the Mill Valley Invitational. The varsity begins play at 9 a.m. Sept. 12 at Gardner-Edgerton.