Jennifer Hansen, Overland Park, and Andrew Davids, Lansing, announce their engagement.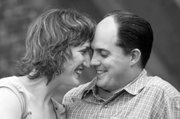 The future bride is the daughter of Glenn and Sandy Hansen of Belmond, Iowa.
Jennifer is an occupational therapist with Providence Medical Center, Kansas City, Kan. She earned a graduate degree in 2005 from Washington University, St. Louis, after earning an undergraduate degree from Central College in 2003. She is a 1999 graduate of Belmond-Klemme High School.
The future groom is the son of Ron and Victoria Davids of Lansing. Andrew is a consultant and a Project Management Professional with Booz Allen Hamilton. He is a 1998 graduate of University of Missouri-Rolla and a 1992 graduate of Lansing High School.
The couple plan an Oct. 14, 2006, wedding at Word of Life Church in St. Joseph, Mo.