Janalin Hittle, Iola, and Victor Hood, Chanute, announce their engagement.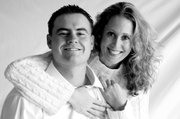 The bride-to-be is the daughter of Ray and Linda Hittle, Leavenworth. Janalin is a photographer and designer. She graduated in 2002 from the University of Kansas and in 1997 from Lansing High School.
The prospective groom is the son of Fred and Selene Hummer, Chanute. Victor is self-employed at JV Oil Company and is a 2000 graduate of Chanute High School.
The couple plan an Oct. 13, 2006, wedding at St. Patrick's Church, Chanute.