LHS

boys embrace 'pack attack' strategy
When the Lansing High boys cross country team stepped to the starting line last year, spectators already knew what to expect.
Griffin Davis would use his long strides to pull away from teammates during the first mile. Then he'd rely on his stamina and his coaches' encouraging words to finish the race.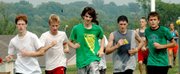 Meanwhile, the rest of the LHS runners were scattered across the course fighting similar solo battles.
Fortunately for Davis and his teammates, the separation strategy is a thing of the past. The plan for 2006 is to have a pack attack. Enough Lions put in extensive summertime conditioning that the gap between the fastest and slowest runners now is extremely narrow. As a result, they'll try to run as a group and push each other - both in practice and in meets.
"It's definitely an improvement from last year," said Davis, who placed sixth at the Kaw Valley League meet in 2005. "There's so many guys that are really good, so it's makes me work harder. Since we run in a pack now, I have to work harder to stay up front."
History shows that the Lions have been more successful in the past when they've run as a pack. LHS coach Errol Logue points to the junior varsity race at last year's Tonganoxie Invitational when the Lions placed fourth out of 21 teams when they ran as a group.
"If we can learn to run together, then that's a good place to start," said Logue, who is beginning his 38th year coaching cross country at LHS. "We're on the bottom right now, but I tell them, 'Let's see how much we can move up.' As long as they're running together, I think we can keep moving up."
Logue said he is optimistic about the Lions' chances of contending for a top-tier finish in the Kaw Valley League this year because they have depth for the first time in a few years.
"The last couple years we've had a group of freshmen out that didn't stick with it," Logue said. "Now we've got everybody back, and they're still young."
The top returners are Davis and junior Jim Mayes, but a supporting cast of sophomores Matt McCurry, Wes Appleget, Michael Hornick, Trenton Dorf and A.J. Glowacki gives the Lions seven experienced runners. Newcomer Brandon Mills, a senior, will give the Lions additional depth and leadership.
Freshman Brandon Craig has proven to be varsity material during his first two weeks of practice.
"Usually a freshman comes up and they're pretty tentative, but he wants to stay up with (Davis and Mayes)," Logue said of Craig. "And when he can't, he comes over and apologizes. I really like his attitude. He's tough."
Rounding out the squad are newcomers Greg Bremser, Alex Twitchel, Joe Bagby and Russell Buchanan.
With the added depth and improved talent from a year ago, Davis said he is excited to see what the Lions can accomplish this fall.
"Every day I'm just amazed at how much we've changed in the past year," Davis said. "It's going to be a good year."