Chris Aus knows a good shot, but she's no marksman.
Before becoming a barista at Barista's Daily Grind, Aus went through special training to learn the secret to the ideal espresso shot. Her trainers had exact standards, with even an ideal time for the steam to pass through the grounds and condense. Aus hasn't forgotten it.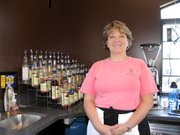 "The perfect shot takes 27 seconds," Aus said.
But Aus warns of the many variables that must be harmonized to reach that time. Fineness of grind, the pressure at which the grounds are packed, even the atmosphere can affect the taste of the coffee.
"It's amazing what can affect it - the humidity and the air temperature," Aus said.
Aus didn't set out to be a barista. In fact, she spent years supporting her husband's building company. But it wasn't always what she imagined it would be.
"When I thought about being a builder's wife, I thought about picking colors and designs," she said. "Then I ended up mostly cleaning cabinets and laying sod.
"I thought I'd get to do fun stuff. But when you're standing there covered in mud head-to-toe you're thinking, 'Whoa. This isn't what I signed up for.'"
Though demanding, Aus remembers a special feeling at seeing ideas come to reality - especially with the large projects.
"When we started working on the Maples subdivision and they started putting the streets in, it was like, 'Wow, this is so cool,'" Aus said. "That really was exciting to me - to watch something go from fields to a neighborhood."
Outside of work, Aus spends her time helping the Lansing Educational Foundation Fund. Though all her children have graduated, it's her way of helping the schools and the community.
Not that they don't have fun too. The fund's November event, a blue-jean ball themed "Diamonds and Denim," aims for a night of glamorous - but casual - fun.
Finding time for planning isn't too hard for Aus. Her daily grind at Barista's gets her up early - even earlier than her days in the construction business.
Luckily, there's coffee waiting.
"We have to be there at 5:45 in the morning; I never thought I'd do anything like that."
Name: Chris Aus
Address: 24200 146th St.
Occupation: Homemaker, mother, barista
Graduate of: Peru State College, Peru, Neb.
Family: Gary, husband; Michael, son; Aaron, son-in-law; Meridith and Maggie, daughters; Ali, soon-to-be daughter-in-law; Ella, granddaughter.
How long have you lived in Lansing and what brought you here? Since 1991. The Army.
What do you like most about Lansing? The small community. The people. My friends and the schools. It's not the great shopping.
What do you do for fun? I exercise; I do things with my children and my granddaughter.
What would surprise people about you? That I had a landscape maintenance business that I owned and operated.
What's the best advice you ever received? To try to turn a negative into a positive: to figure out how to turn a negative into a positive.
What organizations or clubs do you belong to? LEFF, First Presbyterian Church, Lansing Business After Hours