Theresa Ann Moll, Cincinnati, and Kevin Michael Finnigin, Lansing, announce their engagement.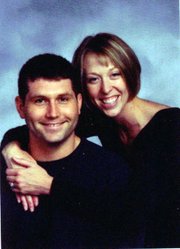 The future bride is the daughter of John and Susan Moll, Cincinnati. She is a 1999 graduate of McNicholas High School in Cincinnati. She graduated in 2003 with a bachelor's degree in marketing operations management from the University of Dayton in Dayton, Ohio. She earned her master's degree in business administration in May 2006 from the University of Dayton. She currently is employed as an associate product manager at Amerock Corp., Columbia, Md.
The future groom is a 1997 graduate of Lansing High School and a 2002 graduate of Kansas State University with a bachelor's degree in computer science. He earned his master's degree in information assurance in March 2006 from the Air Force Institute of Technology, Wright-Patterson Air Force Base, in Ohio. He currently is an Air Force captain stationed at Fort George Meade, Md.
The couple plan to be married on May 26, 2007, at St. Andrew Catholic Church in Cincinnati.