'

Paint the paws'
Volunteers turn out for annual event
A tiger may not be able to change its stripes, but a lion can certainly change its tracks.
Volunteers from the Lansing Lions Booster Club proved that the latter was not entirely difficult; it just takes volunteers, three cases of white spray paint, three gallons of red paint, several hours and patience.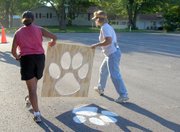 Twenty-one volunteers gathered Sunday near the high school for the annual Paint the Paws project. In previous years the volunteers' job was to repaint the lion paw prints leading to the high school, but this year the lion's track was changed.
Teana Hundley, president of the club, said that due to traffic flow changes, the lion's path was changed. Previously it led from Petro-Deli, 601 S. Main, up East Olive Street. One path led to the parking lot of Lansing Intermediate School and another path went north on Second Street and then between the tennis courts and football field.
Now the path leads from Petro-Deli up East Olive Street and heads north on Lion Lane. The paws prints on Second Street and in the parking lot of Lansing Intermediate School were covered with black paint.
"This year it's starting over," Hundley said about the project.
Changes this year also included a different painting method and a new touch - a bright red outline to the normally plain white paws.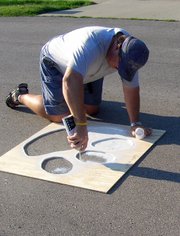 Booster club members Jack and Sandy Grimm donated three gallons of red paint and four new wooden paw print stencils to help this year.
"It's good to do it for the kids," Sandy Grimm said about the donation.
Volunteers were able to paint the white paws quicker this year because of the new stencils and spray paint. Hundley said that last year the group used a five-gallon bucket of white paint and paintbrushes to repaint the paws, but this year the schools donated three cases of white spray paint.
"It was much faster," Hundley said.
Eleven volunteers finished spray painting the dozens and dozens of paws leading to the school in under an hour.
The remaining volunteers outlined the paws in red paint, a more detailed project that made the total painting time similar to previous years.
The booster club is a parent fundraising organization that supports all avenues of Lansing High School and Lansing Middle School. The club raises funds to supplement school activities and helps teachers with expenses not covered by the school. It provides support to the school's sport teams and other extracurricular activities, such as the dance team and math club.