Seniors provide
TLC

knitting shawls
During life's rough times, it's nice to have something made with a little "tender, loving care."
One Leavenworth County group is dedicated to providing this "something" to members of the community who may be in need of some extra comfort.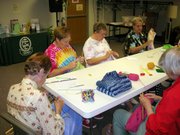 The "Knit Wits," a knitting group for senior citizens, has launched a project to provide this comfort - in the form of a handmade shawl - to county residents who are ill or have lost a loved one.
"Everyone is hit by tragedy at some time in their life," Patty Willmeth, Knit Wits coordinator, said about the motivation behind the "Close Knit" project.
"We don't want to store them," Willmeth said at the start of the meeting. "We want to get them made and get them out."
And the group has gotten them out. Since the project began in May, nine shawls have been delivered to those who "need extra comfort," Willmeth said.
Each shawl is delivered with a label that says, "Made with tender, loving care by Council on Aging 'Knit Wits,' " and also comes with a note. The note reads in part, "Our hope is that you will wrap this shawl around you and be reminded of better times. Please know there are those that care about you."
The colorful, handmade shawls recently made their way to provide comfort to a woman whose husband died and another woman on the eighth anniversary of her daughter's death.
Willmeth said she had received appreciation from both women, who were moved to have been given the shawls.
While the Knit Wits club works to provide solace for others, their monthly meetings are also a time for the women to socialize and enjoy each other's company.
On Aug. 17, seven women gathered to chat about their grandchildren and exchange knitting techniques, but they were still mindful of how their projects might affect others.
Arlene Mears, the group's most productive knitter with 14 shawls knitted since May, said that people who receive the shawls would be thankful for them.
"It's something handmade, and more people appreciate something handmade," she said.
The knitting group, sponsored by the Leavenworth Council on Aging, began in May 2005 as an opportunity for seniors to learn how to knit, but has since become focused on the Close Knit project.
The group is open to members 55 years and older who have knitting experience. All yarn and needles are provided by donations.