Support roars across country
Riders visit fort while raising money for scholarships
To honor a historical precedent, the scores of motorcycles that thundered through the Fort Leavenworth security gates this weekend were waved through unhindered.
After all, they were on a mission.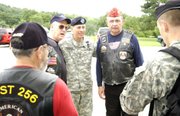 But the riders - members of an American Legion fundraising force - didn't learn the meaning of the welcome until Lt. Gen. David Petraeus, commander of Fort Leavenworth, shared a special anecdote with them.
It was the Army chief of staff who first bypassed the checkpoint after the duty of transporting the Army executive fell on an unprepared officer.
Having no other vehicle, Petraeus said, the officer took his motorcycle to the airport to greet the chief of staff. A sidecar was attached.
Petraeus said the officer was delighted to find the chief of staff undismayed by the transportation, and further surprised to be riding in the sidecar when the chief of staff asked to drive.
"'I've always wanted to ride a hog,'" Petraeus said, recounting the words of the chief of staff.
When the motorcycle approached the gates, security was so surprised at the sight of the Army chief of staff roaring up to the base in a half-bucket helmet, protocol was completely forgotten and the motorcycle - and sidecar - zoomed through unstopped.
The story set a room full of leather-clothed American Legion riders into a hearty roar. On a cross-country mission to raise money for a scholarship to benefit children of military personnel, the riders stopped Saturday at Fort Leavenworth to lay a wreath before the Buffalo Soldier Monument.
The "Support Our Heroes" ride set out from Indianapolis on Aug. 17 with the hope of raising $100,000. Marty Justis, director of the Legion's Americanism and Children, Youth Division, was one of the main organizers of the scholarship. He thought a cross-country rally and ride to the 88th National Convention of the American Legion in Salt Lake City would muster the support they need to reach the goal.
The support was greater than he expected.
When they set out from Indianapolis, they were a smaller force. But riders countrywide heard the call and saddled their hogs to answer it.
"We have a little over 300 registered," Justis said.
A gathering cloud of black leather and chrome, riders streamed in from branched networks across the country, bolstering the force as it thundered west on Interstate 70.
By the time they reached Fort Leavenworth, it was a force roaring nearly 80 bikes strong.
"It's great because you're like a unit again," Justis said of riding with his comrades. "You talk about camaraderie. There's probably nothing better to describe it."
It's the feeling Justis has shared with his fellow Legionnaires that bolstered his confidence in the fundraiser. There's a special bond between Legionnaires that goes beyond geography, Justis said.
"It doesn't matter who you are, where you go," he said. "If you find a riders' group, you're in."
Tom Bock, American Legion national commander, has been impressed by the support as well. It's reaffirmed his pride in his fellow veterans and legionnaires.
"So far, within the first 24 hours of this ride, we've raised $50,000," Bock said of the growing support. "It's exploding."
Part of the surprise comes from the short time that it's taken to gather such response. In just a few short months of planning, what began as a modest idea has gathered immense momentum.
"It's been fabulous," Bock said. "These guys are dedicated.
"You give an American Legion rider a challenge, they'll pick it up and run with it."
For Justis, forming the scholarship was simply a good idea. But he never started small. The Legion aims to raise $20 million to ensure the scholarship has a strong future. But this type of security is something Justis feels is owed to those who serve in the armed forces.
If support continues as it has begun, Justis's optimism may not be folly.
"We're serving those people that are serving us," Justis said. "Our goal for Salt Lake City is $100,000 : we think we'll surpass this."
Justis is already thinking ahead. With a whole year to plan and a successful ride under his belt, mustering the Legion should be easier in years to come.
Bock agrees.
"This thing is getting a life of it's own," Bock said. "It will be huge."