Title defense begins Friday
KVL

soccer champs open season with lots of unanswered questions
Although the Lansing High boys soccer team graduated three players who combined for 60 goals and 36 assists last year, LHS coach Randy Brown said people who look strictly at the Lions' offense are narrowing their focus too much.
"Yeah, our offense pretty much graduated last year with the forwards and the center mid," Brown said. "But our defensive line graduated too, so we've got a lot of new guys in new positions trying to make that happen."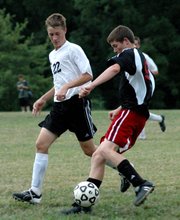 Yes, as much as people noticed Mike Bayless, Brad Mock and Ty Thackston's goal-scoring prowess, the Lions' top defenders - 2005 seniors Theo Daniels and Steve Parker - also are gone. That means there are gaping holes to be repaired all over the field.
How the Lions fill those holes remains to be seen, but they don't have much time to find a solution. Players toyed with new positions Friday night during a Red-White Scrimmage that ended in a 0-0 draw at Willow Park. They'll be thrown into the fire for real at 6 p.m. Friday when they play host to Bonner Springs. After that is a 6 p.m. Thursday home contest against Mill Valley.
Lansing edged Bonner Springs and Mill Valley for the Kaw Valley League title in 2005, so neither early opponent will give much leeway to a Lansing squad that has question marks all over the field.
Despite playing a tough early schedule, LHS senior goalkeeper Alex Burton said he prefers to play good teams right away.
"That way, we can learn early and make our changes after the first game," said Burton, who earned All-State second-team honors last year. "If we come out and play somebody that's not as good, then we don't really learn much. We're really going to learn what's going on when we play Mill Valley and Bonner."
There appear to be only three certainties on the field for the Lions. The first is that Burton will remain in goal. The others are that sophomore Clayton Hall will retain his starting duties at midfield and senior Andy Dick will start at forward for the third year in a row.
Other than those three, all positions are up for grabs as veterans such as Josh Robinson and Nate Markovetz look at possible position changes and newcomers look to fill holes.
"All we have to do is just shape them and mold them into what we want to," Dick said of how the lineup will come together.
Despite having numerous new faces and lots of position changes, expectations remain the same. A Kaw Valley League title is a goal, as is a return trip to the state quarterfinals and beyond.
"Last year we were one of the top eight teams in the state, and we should've been top four, so shame on us," Brown said. "This year, some people moved on but we've still got some pretty decent guys. If we can gel, then we should be able to make a good run."