Collins gives Lions new look
J.T. Collins knows he has some big cleats to fill.
Collins, a Lansing High senior and the Lions' new varsity quarterback, will officially take the reins of the LHS offense at 7 p.m. Friday when he leads his squad against rival Tonganoxie in the season-opener at THS. When he does, it will be the first time since 2003 that somebody other than Matt Warner has started at quarterback for the Lions.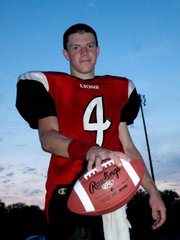 Warner was the LHS starter in 2004 and 2005 and led the Lions to a 17-5 mark and two district titles during that span.
Now Warner plays college football at the University of St. Mary in Leavenworth. That means the ball is in Collins' hands at LHS. It's a challenge he said he's ready for.
"It's a thrill. There's nothing to compare it to," Collins said of the opportunity to start the season-opener at quarterback. "This is what I've been waiting for for the last year, just taking the reins, playing football and leading this team to a victory."
By taking over the quarterbacking duties, Collins brings Lansing a new look on offense. Warner was a drop-back passer. Collins is a scrambler. He's working on his drop-back abilities, but Collins is far more comfortable on the run. As a result, it's likely the Lions will employ a ground attack more frequently this fall.
"Rolling out is what I do best," Collins said. "I make plays on the run. That's what I do. I'm going to get it to the receivers, and we're just going to be making plays all year."
Collins' running skills were on display Friday at the Red-White Scrimmage when he broke off a few 10-yard runs and one 20-yarder.
Perhaps Collins' preference for running has something to do with his football background. He played wide receiver until his freshman year at LHS.
"We didn't have a quarterback (on the freshman team)," he said. "I wanted to try it, and I've been playing ever since."
Collins was the signal-caller for junior varsity games the past two years, but in varsity games he still played receiver and started in the defensive backfield.
The adjustment from JV to varsity quarterback hasn't been easy, Collins admitted, but he said the transition was made easier because of the confidence he has in his offensive linemen. The line has battled injuries during the first two weeks of practice, and senior Peter Willcott is the lone returning starter, but Collins said he trusted Willcott, Billy Bayles, Brendan Becker, Jonathan Biever, Jay Shoemate, Zach Robinson and Mycol Bowen to protect him.
"We've got four new starters that are stepping in, but these linemen are going to fill the shoes really good," Collins said. "They're working hard and doing a good job."
Willcott said Collins' improvements were noticeable since the first day of practice, both as a passer and runner. He also said Collins was emerging as a genuine leader.
Willcott pointed to one example in particular that he said proved Collins was willing to make adjustments and lead.
"There was one time (in the scrimmage Friday) when I told him I couldn't hear him in the huddle. He didn't argue. He said 'OK, I'll speak louder,'" Willcott said. "That's a good team leader there."
Collins said he is excited to lead Lansing against Tonganoxie on Friday, as well as for the rest of the season.
"Coming in and leading the team, there's nothing to compare it to," he said. "With as good a group of guys as we have, it's going to be a good year."